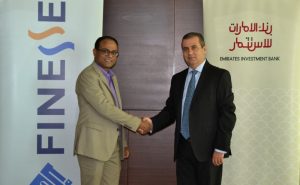 Regional IT systems integrator Finesse has announced that it will provide its human capital management (HCM) solution to Emirates Investment Bank (EIBank), an independent private bank based in Dubai.
Finesse will act as EIBank's strategic IT partner, driving the bank's human resources transformation over the coming months. To deliver EIBank's holistic HCM solution, the systems integrator has partnered with software provider Adrenalin.
With Finesse and Adrenalin, Emirates Investment Bank is expecting to benefit from scalable and comprehensive HCM product, which would adapt to the growing business needs. The bank will be able to grant employees, a single-window web-based access to all HR processes, reducing time spent on administrative activities, significantly enhancing organisational productivity. It can also take informed decisions through analytics and reporting tools that allow managers to review performance and other employee metrics.
Imad Bou Khouzam, CFO, Emirates Investment Bank, said, "After a rigorous evaluation process, Finesse demonstrated its capabilities in enabling HR transformation and support services. Finesse will play a key role in developing and implementing a comprehensive human capital management solution, supporting our ongoing business expansion."
Sunil Paul, COO and co-founder, Finesse, said, "Finesse has been a trusted leader in enabling HR transformation for our enterprise clients. We are delighted that Emirates Investment Bank has chosen us to enable their strategic HR transformation programme."