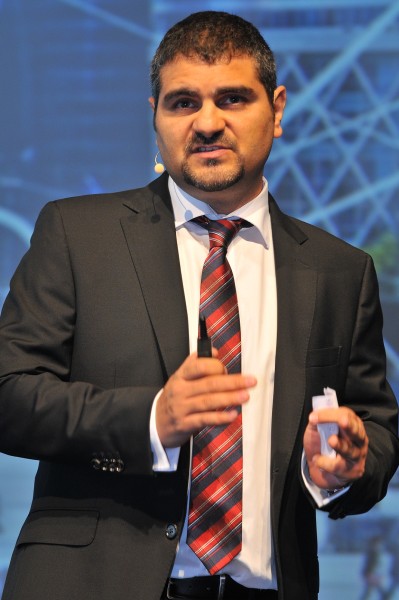 On 7th September 2015, Fujitsu hosted the Dubai leg of its Fjitsu World Tour at The Atlantis, The Palm. The event was part of a global event that takes place in 19 countries. Under the theme of 'Human Centric Innovation,' the event featured a roster of esteemed experts from Dubai Police, CIO of Lulu Group, VP and Head of Business Development at SAP, Cloud Technologies Director at Microsoft and Commercial Business Director at Intel.
During his welcome speech, Farid Al Sabbagh, Managing Director and VP, Fujitsu, said, "On average and according to Gartner, 67 percent of the total IT cost is used for 'keeping the lights on' – or, to run and maintain current systems. This is not enough to prepare an enterprise to benefit from a hyper connected market, preventing the development of new innovation that has the power to transform business efficiency."
The event was an opportunity for Fujitsu to focus their customers attention on its portfolio of solutions and services that support the three dimensions of people, information and infrastructure in technology.
Ayman Abouseif, VP Product Marketing, Fujitsu, in his keynote presentation emphasised that only by centralising IT systems can an enterprise truly protect itself and move into the era of hyperconnectivity with confidence.
"In a safer and centralised environment, businesses can apply new technology to deliver deeper insights and value from information. It's about seamlessly connecting multiple devices and data centres through the cloud – ensuring that the right information is available to the right people, at the right time, in the right place. It's about using technology confidently to help people do what they do even better," he said.
To further reiterate his point, Abouseif referred to Fujitsu's work with Airbus. "The manufacturer implemented Fujitsu's RFID solutions to develop a profile of any aircraft's spare part numbers, maintenance history and overall reliability," he said. "As a result, a manual check of seats and lifejackets that used to take fourteen hours, now takes 20 minutes in a plane – besides allowing easier tracking and replacement."
As a company with approximately 95,000 registered patents, Dr. Adel Rouz, Executive Vice President, Fujitsu Laboratories spoke of new paradigms in research, and used real life examples of how today's hyperconnected world presents many opportunities previously unimaginable such as CCTV cameras that can cut through fog and LED lighting embedded with information.
From Dubai Police, Captain Ahmed bin Fahed also spoke of human centricity in their adoption of smart technology for Dubai – and how its innovations are benefiting residents of the Emirate. "With 34 channels of communication, 57 online services and 79 mobile services, we are using mobile applications and smart solutions to serve customers more effcienctly and make the citizens and residents of Dubai safer and happier as a result. This is all part of our social policing vision."