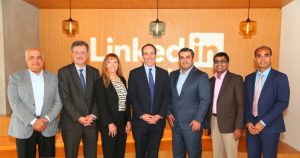 Gulf Business Machines (GBM) has become the first regional IT company in the GCC to adopt LinkedIn's Sales Navigator tool for its sales force. LinkedIn's Sales Navigator enables salespeople to more easily tap into the world's largest professional network to find and build relationships with prospects and customers through social selling.
The partnership between GBM and LinkedIn signals the onset of a transformation of the regional IT sector, and the growing adoption of the social selling concept as a means to improve sales. Through this collaboration, the systems integrator places itself at the forefront of using the social channel to revolutionise the relationship between the business and its customers. Sales Navigator is expected to further strengthen the GBM brand by providing its sales team with insights on the target audience. It also helps the sales force connect with decision makers and build on these relationships to seal business deals.
Kevin Jones, vice president, Software Solutions, GBM said, "LinkedIn has changed the nature of how we connect on a professional level. LinkedIn Sales Navigator takes this one step further and helps us convert these relationships into business opportunities.
"We are excited to be the first regional IT company to partner with LinkedIn to adopt the concept of social selling through Sales Navigator. This is aligned with GBM's goal to innovate and change the way we do business as a company. We also expect that this will be the direction which the regional IT industry will head in the near future."
Liam Halpin, director, LinkedIn Sales Solutions, EMEA, said "Our tried and tested LinkedIn's Sales Navigator tool will enable the GBM salesforce to find and connect with prospects more effectively than the traditional sales route. We are delighted that GBM has recognised the benefits of LinkedIn's social selling concept and is adopting this throughout the region. Success in today's world relies on sales professionals being able to navigate the often-complex social structures within the companies they want to work with.
According to Halpin, the company's Sales Navigator tool makes it easier to build trusted relationships more quickly by shedding light on the key connections salespeople need to make.
"Through this tool we look to revolutionise the way that the GBM salesforce does business and in turn help them to achieve their business objectives," he explained.
Through this partnership, the GBM salesforce will have access to the LinkedIn Sales Navigator Team Edition, which is designed to cater to groups of salespeople, and includes InMails, TeamLink, CRM integration, central reporting and extended network access. The tool will be used by the GBM sales staff across the GCC, and will assist in their sales operations for both enterprise and SMEs.