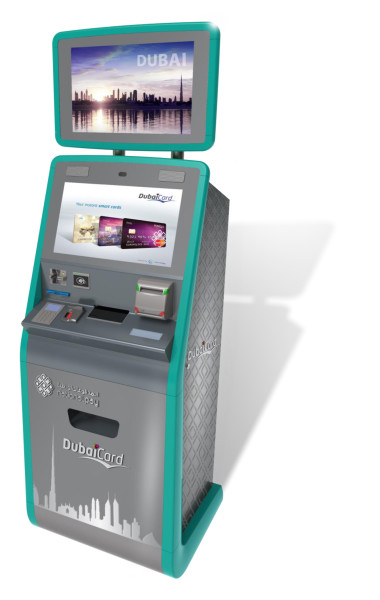 During this year's Card and Payments Middle East, National Pay together with Gemalto, has launched and showcased its flagship product, DubaiCard.
DubaiCard is an innovation that that issues prepaid cards and gets them activated instantly from various National Pay Kiosks spread across the UAE. Through the technology of Smart Issuance, customers can apply for a MasterCard branded prepaid DubaiCard via the National Pay Smart Issuance Kiosks, and within minutes, receive a fully personalised, encoded and activated card with the security of chip and PIN technology.
Powered by Gemalto's Dexxis Card Instant Issuance solution, which facilitates seamless and secure on-the-spot card issuance, the DubaiCard kiosk is set for widespread deployment this 2015.
Speaking at the exhibition, Mohamed Anis Chemli, Sales Director for GCC & Levant, Secure Transaction and Telecom, Gemalto, said, "People in the Middle East are always looking for the best services to help them with go about their day to day activities with ease. DubaiCard ensures the end-user experience and convenience."
Dubai-based National Pay will install 200 kiosks across the Emirate as part of phase one of the technology's nation-wide insertion. Unsurprisingly, this highly user-friendly, prompt-delivery hosted solution, with activation and issuance of a personalised payment card with a PIN in under a minute, has been generating its fair share of interest in the Emirate and beyond.
He also reiterated the security of the system, mentioning various identity verification processes that has been integrated in the DubaiCard machine.
"Before issuing the payment card, the machine will be scanning the IDs that you will provide and ask the user to verify the details on it. The machine is equipped with Gemalto's Dexxis solution, which helps in putting the right data and profile on the card. It has a layer of security embedded inside which further strengthens the security of the cards issued."
According to Chemli, DubaiCard is the first of its kind, and they have developed it in response to the growing demand for prepaid solutions that provides convenience and security to end users.
From General Purpose Reloadable (GPR) cards and gift cards to travel cards and virtual online use cards, DubaiCard products can be used anywhere in the world where MasterCard is accepted in over 37 million locations and 2.1 million ATM's worldwide. This pioneering initiative by National Pay offers a world-first in payment technology for Dubai.
"NationalPay has already been in discussion with a number of banks, and we are seeing a great potential in terms of having partnerships with them to subscribe to this initiative. From the momentum that we have seen we are sure that we'll get more inquiries from other companies and of course we will be more than happy to get them on-board with this project. For Gemalto, we will continue to support this initiative and provide the best and latest technology that we can to make this a success," Chemli added.