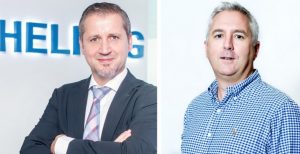 Help AG has signed an agreement with Skybox Security that will allow the company to integrate Skybox's security management solutions into its Cyber Security Operations Centre (CSOC). According to the firm this partnership adds "powerful new security analytics capabilities" to its Managed Security Services (MSS) offering.
As a Skybox Premier Partner, Help AG will also offer the Skybox Security Suite for vulnerability and threat management, firewall change management and compliance monitoring within both IT and OT environments, to enterprises across the Middle East.
The Skybox Security Suite is a security management platform with an attack surface visualisation layer and a suite of five security management solutions for vulnerability and threat management and firewall and security policy management.  The Suite unifies data from more than 120 network and security technologies, including virtual and cloud environments, and uses modelling, simulation and analytics to extract the contextual intelligence needed to simplify complexity and eliminate attack vectors in both IT and OT environments.
"The partnership with Skybox will enable our MSS customers to drive even greater value from their existing cyber security investments with threat management across the entire attack surface," said Stephan Berner, CEO, Help AG. "As a reseller dedicated to IT security alone, we are keen to bundle our expertise in consultancy, integration and support around the solutions offered by Skybox, thereby creating a truly differentiated offering."
Initially leveraging Help AG's local presence in the UAE, Saudi Arabia and Qatar, the companies will look to engage with leading organisations from the oil and gas, government, finance and utilities sectors in these countries. Customers will be able to either consume Skybox security management solutions as a part of Help AG's MSS offering, or choose to have the reseller integrate the suite into their IT infrastructure. Help AG will also offer comprehensive Level 1 and Level 2 support services on behalf of the vendor and has created a 'Skybox Security Lab' environment to rapidly and reliably recreate any troubleshooting issues customers may face.
"Our channel strategy has been key to helping us set a pace for record growth this year," said Jono Clarke Storey, Channel Director, Skybox. "Partners like Help AG provide Skybox with efficient routes to market while complementing our sales teams as we increase our footprint, particularly in the Middle East. In turn, we enrich their offerings with a comprehensive security management platform that provides more solutions and greater visibility of the attack surface than any individual point product can."