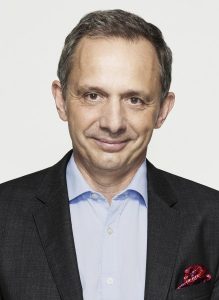 At HP Inc.'s largest global partner event, HP Reinvent, the company shared its vision for protecting print in the workplace, arming partners with new tools to safeguard their print environment, reshape how businesses print, and transform servicing. As the path of work is reimagined for digital transformation, these new solutions are designed to take the friction out of printing for greater cyber-resilience, collaboration and mobility.
"HP is empowering our partners to deliver amazing experiences for customers by reinventing printing for an on-demand world," said Enrique Lores, president, Imaging and Printing, HP Inc. "As the cyber landscape evolves and the path of work transforms, we will drive partner success with innovative new services and solutions for printing easily and securely, enabling increased services and revenue opportunities."
At HP Reinvent, the firm has launched HP Connection Inspector, a new "intelligent embedded security feature" created by HP Labs to help printers stay one step ahead of malware attacks with advanced self-healing capabilities. The technology can inspect outbound network connections typically abused by malware, determine what is normal and then stop suspicious activity. If compromised, it will automatically trigger a reboot to initiate HP Sure Start self-healing procedures, all without IT intervention.
The firm said that partners can help customers upgrade their fleet with resilient HP Enterprise printers that feature the latest HP security technologies such as HP Connection Inspector, available via a FutureSmart firmware update later this year.
HP Roam is a new universal business printing experience that will reshape how innovative businesses print. It enables mobile professionals to print anytime from any location and any device, and retrieve their prints securely from a growing set of print locations at the office, at home or at public sites. Print jobs can be submitted to the cloud as content is being consumed or created and picked up at the location of choice without having to worry about device to printer compatibility or connectivity. In addition, GPS and Bluetooth technologies allow for fast auto-discovery of printers while authentication ensures a protected, secure release of prints.
 HP Roam helps simplify the print experience while creating new service and revenue opportunities for customers and partners. Resellers can expand and differentiate their managed print services to leverage the cloud, using a simple deployment that minimises staff training and service costs.
Offered first as a business print solution, HP Roam will be available in spring 2018.
HP also announced the launch of HP Solutions Hub, a new workflow optimisation platform for partners to differentiate their services with custom workflows for paper-intensive verticals such as healthcare, legal, and financial services. This cloud and mobile-centric architecture includes connectors and templates that make it easy to turn HP multifunction printers into custom work environments, so that paper becomes a natural extension of the digital experience.
The software development kit includes an open platform architecture designed to scale and customise to workflows in vastly different business environments, creating virtually unlimited opportunities for partners to grow and differentiate their offerings far beyond basic print services.
HP Solutions Hub allows for the creation of deeply integrated workflows that include mobile access as well as traditional sign-in for secure and context-sensitive experiences. HP Solutions Hub is available in spring 2018.
Also at HP Reinvent, the company unveiled its next generation of Smart Device Services (SDS) 2.0, a set of cloud tools and device-based sensing capabilities designed to dramatically enhance the service experience. With Smart Device Services 2.0, HP is delivering new use cases to empower partners to achieve the industry's highest uptime and lowest service costs including:
Part failure prediction—Monitors device components and provide chance-of-failure predictions to help optimize service calls and parts planning
Enhanced diagnostics—Provides scanner dust detection, print engine failure sensor for core engine issues and improved problem analysis capabilities for unresponsive devices
Fleet optimization—Offers remote remediation actions of USB connected devices and expanded HP fleet support
Enhanced collection and billing—Continues improvement of data collection agent (DCA) reliability to detect and notify when DCA or devices go offline, and detect when a printer's serial number is cleared
Device health alert—Ability to select which events trigger real-time alerts, detect when long life consumables (LLC)'s service counts are not reset after replacement and 'Report A Problem App' on the device control panel for end users to proactively communicate with the reseller when printing problems occur
SDS 2.0 will be available in spring 2018 via existing industry leading third party fleet management software for HP resellers.
The company has expanded its A3 portfolio, originally announced in September 2016, with the availability of two new platforms in a number of different configurations for both transactional and contractual channels. The new A3 printers and MFPs enable partners to deliver a powerful customer experience by offering affordable color via HP's PageWide printing technology and maximum device uptime through SDS 2.0. The portfolio also features enhanced security features such as HP Connection Inspector, as well as HP Sure Start, Run-time intrusion detection and whitelisting. HP's new A3 printers and MFPs will be available through qualified channel partners, or directly through HP.
In addition, HP announced the launch of new workflow scanners, including Digital Sender Flow (A4) and ScanJet Enterprise Flow (A3). Leveraging the same FutureSmart firmware used by HP's line of enterprise printers and MFPs, the new scanners come equipped with leading extensibility, compatibility and embedded device security.
HP also announced updates to its line of home and small-business printers with the introduction of new HP Color LaserJet Pro MFP M180/181 series and HP Color LaserJet Pro MFP M280/281 series printers , offering quality, value and improved efficiency for micro- and small-businesses.