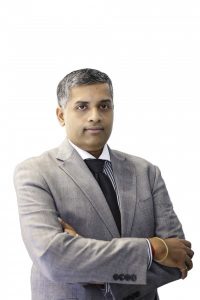 In a competitive marketplace, only those firms who dare to distinguish themselves through innovative initiatives and ensures they are at the forefront of change can hope to flourish over the next decade. Tahawul Tech speaks to Ramkumar Balakrishnan, president, Redington Value, to discover how the firm aims to redefine distribution.
The regional distribution space has undergone several stages of changes over the years. One of the most notable differences has been the shift to solutions-based distribution model rather than a products-focused one. While this has transpired gradually, the transformation is now tangible.
Having been through this journey over the last 11 years of operations, Redington Value is determined to redefine the space and orchestrate the elements for its next phase.
Ramkumar Balakrishnan, president, Redington Value, says, a solutions' distributor is someone who engages in an outcome based sale. The ability to actively combine three different vendors' offering into one comprehensive solution to effectively address a customer's requirement is what solutions distribution is all about.
"Many believe solutions distribution is like old wine in a new bottle but that's not the case," says Balakrishnan. "This transformation is happening; however, the industry must have people who can understand, create and go-to-market with a genuine proposition."
Understanding the dynamics of the new era of IT  distribution, the firm has worked towards building its portfolio of offerings in the regional market over the course of this year. It has grown its operations in all the territories it covers and onboarded new vendors such as Palo Alto Networks, Nokia, Seclore, StorageCraft, Gemini, Nexthink and gone mainstream with Huawei. The company has also escalated its focus in the security, cloud and hyperconverged space.
"From a strategic point of view, two key initiatives stand out – one is setting up of our consulting arm, Citrus Consulting, which is now a DIC company," he says. "The second is that our aggregation and auto provisioning platform, Cloud Solution Provider, will go on general availability by the beginning of this month, which is a big win for us."
The growth for the company has been derived largely from the security, analytics and the software-defined everything offering, which includes software-defined data centre, networking and storage.
"Today, we are in the process of constructing the offering towards an OPEX model as compared to CAPEX, which has gained momentum. Also, regional customers are increasingly adopting software-defined solutions in the security, networking and data centre space," he says. "These are the areas where enterprise uptake is growing, including analytics."
What has been instrumental to the distributor standing the test of time is its ability to adopt emerging technologies, explains Balakrishnan.
"We have moved away from the traditional box moving style of business and have more number of people who understand emerging technologies and trends.
"More than 65 percent of our Q1 revenues have come from software while only 35 percent constitutes hardware. We are considered as a proficient partner of choice by all our vendors."
According to the distributor, having identified the prospects that emerging trends will have and beginning initiatives around it early on, have helped it to stay one step ahead of the game.
He adds, "Challenges always result in opportunities."
If credit availability in the SMB channel or waning demand in select markets is a challenge, then the player should create a contingency plan to address it.
Balakrishnan says, "Maybe the solution is to go narrow and deep with select partners or try to understand the end-users' demands and then support partners in project financing. We try to overcome the problems through different strategies."
He adds that today every single person at Redington Value is a solutions provider. "The approach is how to bring together different technologies into one solution to win the marketplace. This change in mindset has helped us stay ahead of the market."
Keeping this in mind, Balakrishnan highlights that even conversations with partners have evolved. Today, the discussion is on how to optimise the prospects through joint initiatives.
"Channel enablement and education are as important for us as channel acquisitions and promotions," he says. The distributor organises a number of trainings and enablement initiatives throughout the year to help partners be in a better position to seize market opportunities.
The dearth of talent in the industry is currently one of the biggest bottlenecks faced by the firm, says Balakrishnan. Additionally, there's also the challenge of vendors not setting a clear path to how they want to grow their channel ecosystem.
Although this has changed considerably, Balakrishnan points out that there are still vendors who appoint new distributors in a landscape that doesn't evolve all that rapidly.
"We are dedicated to vendors who appreciate the amount of investments we make and who understand that the channel needs to be profitable. They need to have a long-term steady approach to how they want to build their business."
Another challenge is the pace at which the channel is transforming, he says.
"Even today, I find many partners viewing the business from a traditional mindset. This has to change and it is something that will happen over time."
To address this, according to Balakrishnan, partners should already be investing or at least looking to invest in key areas such as security-as-a-service, analytics-as-a-service and understand how to build machine learning and artificial intelligence imbedded solutions.
"They need to know how they are going to partake in such a business environment. They must focus on building public and private cloud infrastructures. It is essential that partners seriously begin building their capabilities to be future proof."
In order to be able to tap into these opportunities, partners have to start investing in getting their personnel trained and exposed to new and emerging technologies immediately.
"They need to challenge them on their understanding of these new concepts. The first step is awareness. Even though there are partners who have reorganised and consolidated companies to set up new business units within their own ecosystems, I believe more can be done."
Not only partners, says Balakrishnan, but even vendors have a huge responsibility in educating the ecosystem on new concepts such as machine learning.
"None of us have the luxury anymore to say the business is not going to get disrupted for another few years and there is time to take action. The rate of adoption is becoming quicker. To be ahead of the curve, you need to invest in people being exposed to these market developments."
For partners to thrive in the new digital era, it all comes down to their willingness to take risks, says Balakrishnan.
"Partners must take that first step and bet on emerging technologies by investing in training and quality human resources. They should not wait for the vendor or distributor to make that investment or drive an initiative. This is true, even for us," he adds. "We have made several investments where the returns are not expected in the first year. However, we have stayed invested, created the business opportunity and now we are going to accelerate the demand. Partners have to take risk and invest in emerging technologies."
Over the course of next year, the value-added distributor will be massively focused on four areas – mobility, security, cloud and analytics. He adds, "I believe 2018 will be a positive year for the industry."
While the last decade has been about evolving into a solutions distributor that stands out from competition by being an early adopter of emerging technologies, we will see the firm increasingly taking up the role of an aggregator over the next ten years.
Balakrishnan says, "The difference is that as a distributor you are only tied up with the authorisation you have to resell products and services. As an aggregator, we will be able to aggregate solutions, products and relationships. This will be the next phase for us."
Believing that the regional industry has massive capacity and there are several growth years ahead of us, he says the key question is, "Are you going to be a part of the journey or not?"