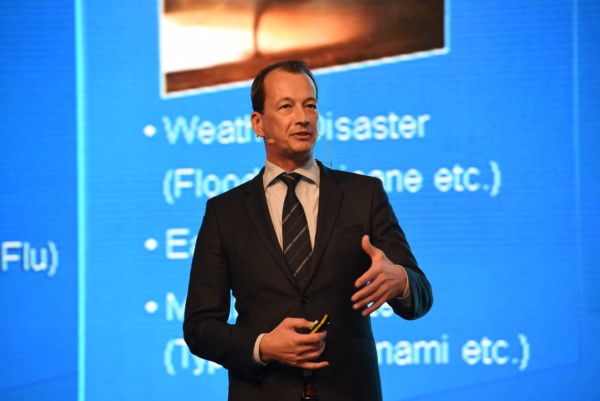 Huawei has recently held its global Safe City Summit 2016 in Dubai, where the company revealed how new ICT innovation including Big Data, The Internet of Things (IoT) and cloud computing are driving successful Safe City deployments around the world.
The Summit, held under the theme "Leading New ICT: Making Cities Safer", featured a keynote address His Excellency Major General Khamis Mattar Al Mazeina, Commander-in-Chief of Dubai Police, who shared some of the safe and Smart City successes that Dubai Police has achieved in recent years.
"We are delighted to join hands with Huawei to fulfill the wise leadership's vision in relations to technology and innovation. At Dubai Police, we are committed to employing the latest technologies and innovation to ensure the safety and security of our community," said Major General Al Mazeina. "Dubai Police is implementing the directives of His Highness Sheikh Mohammed bin Rashid Al Maktoum, Vice President and Prime Minister of the UAE, and Ruler of Dubai, in relations to smart services transformation and we have achieved 100 per cent. We currently provide 115 smart services that the public can access and avail from without having to visit any police center or related administrations."
During the event, Huawei launched a global whitepaper titled "Safe Cities: A Revolution Driven By NEW ICT" which was developed in association with IHS, a leading source of information and insights in critical areas that shape today's business landscape. The whitepaper highlights global trends in safe city adoption and outlines the technologies that are making safe cities possible.
Thomas Lynch, Director, IHS Critical Communications Group, said, "Modern cities face a range of challenges as populations continue to rise and urban development expands, prompting public safety and security stakeholders around the world to turn to innovation for more efficient emergency response services and quicker threat mitigation processes to ensure public safety. Data, connectivity and interoperability serve as the basis for a consolidated IT platform that provides such capability while providing better situational awareness to the various stakeholders tasked with ensuring the public wellbeing."
The Summit hosted a number of workshops for regional and international guests on how Huawei's new ICT solutions are helping cities become safer. These solutions are split across six main solution offerings: Convergent Command Center, private Cloud-Based Intelligent Video Surveillance, Smart Road Safety, 4G Mission-Critical Broadband Trunking, Agile Communication Network and Secured Cloud Data Center solution.
"New technologies are reshaping the safe City infrastructure. We believe that visualization and convergence are important components of Safe City solutions. eLTE based broadband trunking systems is just one example of innovation that different field agencies can leverage where they have access to voice, video and data in one single device." said Edwin Diender, Vice President, Government and Public Utilities, Huawei Global. "Collaboration is key in ensuring greater levels of safety for citizens. Huawei has established an open ICT platform and partner ecosystem, to bring together some of the industry's most experienced and qualified teams and technologies to build a reliable and robust comprehensive range of safe City solutions."
Huawei has successfully implemented solutions worldwide to help build greater levels of Public Safety for more than 100 cities in more than 30 countries serving more than four hundred million citizens.
The "Safe Cities: A Revolution Driven By NEW ICT" whitepaper recognises that technologies like video surveillance, LTE and command and control solutions form the backbone of a safe city infrastructure, as integrated ICT innovation helps solve a myriad of safety and security issues in areas like transportation, energy supply, social and physical infrastructure, economic stability and security.