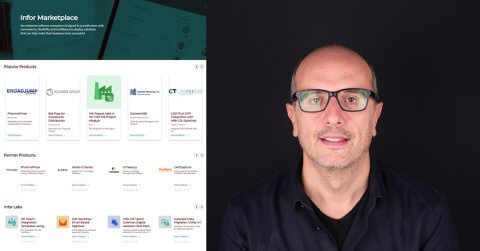 Infor has announced the continued momentum of Infor Marketplace, which now showcases more than 150 solutions.
These include partner-developed applications that extend the functionality of Infor ERP (enterprise resource planning) systems and Infor content that leverages Infor platform technology and OpenAI's ChatGPT language model.
"The Infor Marketplace showcases Infor's large and growing partner network, with more than half of the solutions now consisting of partner-developed apps", said Massimo Capoccia, Chief Innovation Officer at Infor. "This expanding enterprise software ecosystem provides users with the convenience, flexibility and confidence to deploy solutions that make their businesses more successful".
Infor Marketplace now features several new partner solutions, which enable users to extend the capabilities of Infor's M3 and LN ERP systems serving the manufacturing, distribution and services industries. And new Infor solutions leveraging Infor platform technologies (Infor OS, Coleman AI) and generative AI (artificial intelligence) models such as ChatGPT will help improve the user experience with Infor CloudSuite solutions.
Partner solutions deliver fast time-to-value & integration with Infor ERP systems
Infor partner Accure AB offers a complete output suite for M3. The Accure Cloud for M3 is a natural extension of the Infor M3 output solution. It helps users monitor and maintain the process and distribution of all documents, forms, labels, and reports, etc. — in printed or electronic format. It is a complete CloudSuite, delivered as a service, which manages all output management from M3, including a unique transformation process for a safe and fast move to the M3 Cloud Edition.
"The Accure Cloud for M3 enables not only a safe and fast journey to the cloud for any M3 customer, it also offers a sustainable business model for the design, creation, distribution and monitoring of documents and reports for all steps in the output process", said Henrik Billgren, senior advisor for Accure AB.
LeaseQuery also offers a new cloud-based solution on Infor Marketplace, which simplifies lease accounting and facilitates compliance for organisations across all sectors. The solution transfers accurate journal entries, disclosure reports, and accounts payable reports seamlessly into an Infor customer's instance.
This integration simplifies lease accounting for users, maximises time savings and eliminates mistakes.
"LeaseQuery makes accountants' lives easier by simplifying the complex with technology", said Joe Gruca, Chief Revenue Officer of LeaseQuery. "By partnering with Infor, we bring the expertise and technology of two leading solutions to facilitate complex lease accounting compliances and help drive customers through their unique digital transformation plans".
The Foreign Exchange (FOREX) for Infor – LN Edition solution, available on Infor Marketplace from Infor partner PCG (Providence Consulting Group), brings the power of accurate international budgeting, purchase and sales orders, invoices, reporting, financial consolidation, employee expense reimbursement, and treasury management to Infor-based businesses.
FOREX for Infor provides customers with analytics tools so they can track trends, develop predictive forecasts, and make better, data-driven decisions on currency-related issues.
"Our solution looks at the broader FP&A (financial planning & analysis) picture", said Richard Lacombe, VP of Infor software and IP at PCG. "This helps customers take advantage of changes in the exchange markets".
Infor apps leveraging platform tech & ChatGPT enhance CloudSuite solutions
One of the new solutions that Infor offers on Infor Marketplace is an Ask ChatGPT Widget, an intelligent tool that combines the advanced capabilities of ChatGPT, a cutting-edge language model by OpenAI, with the business context information in the Infor cloud environment, to help Infor customers effectively ask specific questions of ChatGPT.
For example, they can ask for ideas on how to promote the products they sell or get feedback on an item or business partner based on the information available in the general domain. They can do this even without the in-depth knowledge that typically takes years to develop. This helps decrease time-to-value for new employees, enabling them to contribute to a company's success more quickly.
Such widgets serve as a valuable resource for both seasoned professionals and newcomers alike, optimising the overall efficiency and effectiveness of Infor CloudSuite environments.
Accessing Infor Marketplace and listing products & services
The Infor Marketplace, accessible at https://market.infor.com, currently serves as a listing marketplace, where customers can register to receive information and assets related to a wide range of Infor and partner solutions and services. Going forward, Infor plans to develop it into a real-time provisioning platform, where users can conduct frictionless e-commerce.
The marketplace serves as a one-stop shop for customers looking to source unique and innovative software solutions — including analytics, AI and machine learning apps — and find value-add extensions to Infor products that deliver even greater industry-specific capabilities.
Companies and partners interested in having their products and services listed on the Infor Marketplace can send an email to InforMarketplace@infor.com for additional information.