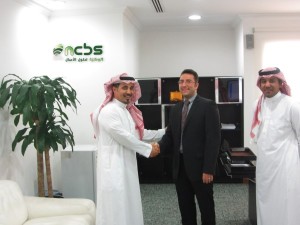 Interactive Intelligence Group, a global provider of software and services designed to improve the customer experience has signed National Company for Business Solutions (NCBS), as an 'elite' partner. Under the terms of the agreement, NCBS will sell, implement and service Interactive Intelligence's products and services portfolio across all market segments and verticals in Saudi Arabia.
Naif T. Bin Hwail, Head of Contact Centre, NCBS said, "The rapidly evolving technology scene in Saudi Arabia has led to the emergence of a new class of consumers who access information and express their views using diverse communication channels. The increasing demands of these customers have compelled call centre operators and organisations to evolve quickly and adopt the latest technologies. In addition, the Saudi government's endeavour to engage with citizens and open new channels of communication with them has led to an increasing demand for contact centre and unified communications solutions and this trend is set to gather pace in the next few years".
"We have decided to become a dedicated partner of Interactive Intelligence in Saudi Arabia to better serve the market. The partnership will enable NCBS to bring world-class contact centre solutions to the country, enhanced by the highest quality local support."
NCBS is based in Riyadh and operates across Saudi Arabia. The company is specialised in the Business Process Outsourcing (BPO) market and is one of the largest players in the Kingdom in this space. CCBS, the contact centre division of NCBS has built experience in deploying highly competent people using innovative technology to deliver contact centre services. The NCBS Technology Solutions and Services division provides state of the art end-to-end ICT infrastructure solutions and this division will be responsible for promoting and implementing Interactive Intelligence's solutions.
"Interactive Intelligence over the past few years has been actively expanding its reach in Saudi Arabia by signing up with local vibrant channel partners and we are delighted to sign NCBS as an Elite partner. The company's experience and record of success will ensure that we can offer organisations the benefits of working with an expert team in deploying an all-in-one contact centre platform for multichannel interactions. NCBS will play a strategic role in expanding Interactive Intelligence deployments in the country as they are able to offer various models such as premise, outsourcing and hosted (cloud)," said Safwat Alshawaf, Territory Manager, Saudi Arabia at Interactive Intelligence.