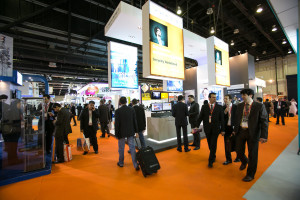 Security and Safety tradeshow Intersec 2015 is in its third and final day at Dubai International Convention and Exhibition Centre.
A range of top information security vendors are exhibiting in the Trade Centre Arena hall of the venue, as well as physical security companies who are spread throughout the rest of the venue.
Sony Professional is using the event to underline 4K security technology, mainly in the form of its cameras, but also through displays of its VPL-GTZ1 projector.
"We believe that 4K will be the next resolution standard in the security industry," said Aydin Tolan, Business Head, Visual Security Solutions, Sony Professional Solutions MEA. "Intersec 2015 provides us a great platform to demonstrate our innovations in the 4K space, as well as its benefits in video security. Our products are designed for a range of verticals."
The firm is also showing its SNC-VB632D Full HD infrared bullet camera, the latest addition to its outdoor camera range, which a Dual Light system with infrared illuminator and white LED.
Meanwhile Panasonic is touting its range of fixed network cameras at the event. Among them, two are 6-series and outdoor-ready, two are 3-series HD cameras, and a new 5-series fixed network camera.
Mohamad Saoud, Chief Systems Engineer, System Solutions Department, Panasonic Marketing Middle East and Africa, is relishing the opportunity to offer hands-on demonstrations, "Intersec is the leading security event in the region; it provides us with fantastic opportunities," he said. "We see it as an ideal chance to give potential customers the opportunity to plan their future solutions and business by getting a free demo of our products, not just through us sending them a sample."
Saoud went on to discuss how exhibiting in the company of rivals actually serves as a positive, "All our competitors are here as well, which gives us a chance to not only improve our relations with them, but also to cover our own shortcomings."
Axis Communications are also using the event as a platform to promote its camera range. On offer are its '4K Ultra HD' products, which can count and identify figures in shot, and feature vehicle plate recognition and can identify objects through real-time observation and review.
"We're also showing our software offerings, which encompass cabling, analytics and storage," said Marwan Khoury, Marketing Manager, MEA, Axis Communications. "We've got over 70 cameras on offer – five of which are new – and we're ideally placed to serve the banking and retail industries as well as critical infrastructure."
Seagate's Senior Sales Manager for MEA, Christian Assaf, believes the goal posts have shifted in terms of storage's role within security. "The growth and increasing sophistication of surveillance systems in the region has resulted in an explosion of data that organisations can – and are expected to – manage safely and securely," he said. "As a result, enterprises are reassessing their storage requirements both in terms of capacity and efficiency. The fact is that purpose-built storage drives are making a big impact on both of these fronts by helping organisations to improve surveillance system reliability, drive lifespan, reduce security system costs, and support advanced video analytics."