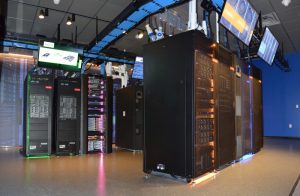 At Supercomputing 2017 (SC17), Lenovo Data Center Group has announced new initiatives designed to empower customers to embrace Artificial Intelligence (AI) so that they can achieve augmented intelligence capabilities for increased productivity and transformative results. Widely considered a strategic priority, 76 percent of respondents in a recent survey indicated that AI is fundamental to the success of their operation's strategy, while 64 percent cited the technology as fundamental to their organization's long-term growth. At the same time, it's expected that there will be 44 trillion gigabytes of data in existence by 2020. Combined, this creates a need for deep learning and inference capabilities, built on a foundation of high performance computing (HPC) infrastructure, that can process this information, generate new, actionable insights and underpin key business and scientific advancements.
"Artificial intelligence is already having a profound impact on traditional business strategies and scientific research, and most senior leaders consider it a priority for the year ahead. To truly benefit from the vast amount of data available to organizations today, our customers must embrace AI as the vehicle to help them achieve success in today's competitive business landscape," said Kirk Skaugen, president, Lenovo Data Center Group. "With our newly opened, global AI innovation centers and a comprehensive product and service portfolio we are committed to helping bring their AI deployments to life."
Building on Lenovo Data Center Group's broader $1.2B investment in AI R&D and initiatives, Lenovo's Data Center Group is operating three new AI innovation centers in Morrisville, North Carolina; Stuttgart, Germany and Beijing, China, designed to help customers discover how AI can help solve their biggest business or humanitarian challenges. Over 100 Lenovo data scientists and specialised AI developers are already working to engineer AI-enabled solutions, such as patient image scanning to detect and classify tumors and assist doctors in diagnoses. Lenovo customers can access innovation centre services remotely and have the opportunity to test and refine applications and workloads on a variety of systems optimised for high-performance. Additionally, they can join a diverse community of experts spanning partners and data scientists and other customers, to share insights and learning's to help solve some of the world's greatest challenges, said the firm.
With much of AI adoption relying on intelligence currently being developed, Lenovo has the expertise to help bring a customer's AI projects to fruition. Lenovo Data Center Group views a customer's journey to augmented intelligence in a three-step process help discover the potential and benefits of AI for a broad set of use cases, provide AI-optimized hardware and choice of AI frameworks to accelerate development of AI applications and rapid deployment with simplified end-to-end solutions and professional service expertise
"We believe that machines will not replace humans, but augment and aid our actions in every aspect of life, a vision which we call augmented intelligence. Working with AI is a complex undertaking. It requires significant processing power and a level of technical expertise and talent that's often not readily available to our customers," said Madhu Matta, vice president and general manager, AI and HPC Segment, Lenovo Data Center Group. "We've created an end-to-end ecosystem that allows us to support our customers every step of the way as they explore AI strategies and unleash the power of augmented intelligence."
 Artificial intelligence, machine learning and deep learning workloads demand a foundation of flexible, agile and high-performance computing (HPC)-optimised infrastructure to operate on. To empower customers to pursue these transformative capabilities Lenovo Data Center Group has also announced two offerings designed specifically for future-defined workloads:
New GPUs for ThinkSystem SD530, including support for the latest NVIDIA Volta architecture-based Tesla V100 GPU accelerators and Intel Xeon Scalable Systems Family processors. The ThinkSystem SD530 is easily adaptable for customers seeking the power and scalability to drive large, complex environments such as high-performance computing and software defined offerings. With the new Tesla V100, the ThinkSystem SD530 becomes a powerful choice for AI applications including training workloads at scale and inference as well.
Lenovo Intelligent Computing Orchestrator (LiCO), a management suite with an intuitive GUI that helps accelerate development of AI applications. LiCO includes open source AI frameworks, monitors neural network training, schedules AI workloads in multi-project environments and is able to work across different solution providers.