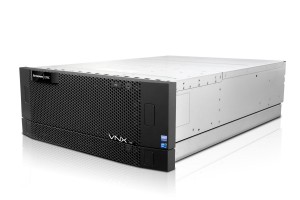 Lenovo has announced the UAE launch of the Lenovo|EMC VNX5150 Storage Array, a storage area network solution for small-to-medium sized enterprise businesses (SMBs). 
The VNX5150 is a dual storage processor SAN with full redundancy and dual paths of connectivity throughout.
Based on the EMC VNX unified storage family, the Intel-powered VNX5150 is designed to handle mixed workloads, both physical and virtual, and features 6-Gb/s SAS drives with multi-protocol block connection support and either 2.5" or 3.5" drive bays.
The VNX5150 enables organisations to manage multi-protocol block storage access via a platform for consolidation of legacy block storage, file servers, and direct-attached application storage.
It supports iSCSI, Fibre Channel (FC), and FCoE access for high-bandwidth and latency-sensitive block applications, and features local and remote protection suite software
"This move is part of a previously announced, multi-tier agreement between Lenovo and EMC to drive innovation in the server and storage market," said Mohammad Al Mufleh, Regional Sales Manager – Storage, Lenovo MEA.  "The Lenovo|EMC VNX5150 is a key solution element for enterprises, enabling Lenovo to provide server and storage solutions to our customers. The VNX5150 platform is a unique offering, based on EMC's industry-leading midrange storage capabilities, tailored to the needs of Lenovo's customers."