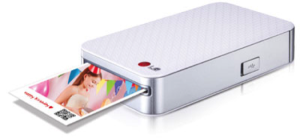 LG Electronics and AJM Kooheji Group this week announced the launch of the PD221 Pocket Photo smart mobile printer at Carrefour, Bahrain.
The LG Pocket Photo delivers high-quality photo prints and wireless connectivity, making it the ideal companion for both Android and iOS smart phones.
"Printed photos always offer a better and more heartfelt memory than the digital photos on your smartphones," said Ali Akbar, Head of IT, AJM Kooheji Group. "Irrespective of whether you want to maintain an album or a scrapbook, the LG Pocket Photo will print any picture or photograph that you would like to keep with you forever" he added.
The Pocket Photo is one of the smallest and lightest mobile photo printing devices on the market, measuring 72 x 120 x 24 millimetres and weighing 215 grams. It easily fits inside inside a jacket pocket. Prints from the device measure 5.1 x 7.6 cm (2 x 3 inch). After downloading and installing a free app to their smartphones, users can connect their smart phones to the Pocket Photo and begin printing immediately.
The range of editing tools included on the Pocket Photo app makes it a snap to embed QR codes and perform simple touch-ups, including cropping and coloring. With the ability to print QR codes on photographs, the device delivers a creative way of connecting a physical image to an online community. QR codes can be read with any barcode-scanning app, linking people to social networking sites or other online content. The Pocket Photo can also be used to print customised birthday invitations, thank you cards, or even business cards with a personal QR code.
Printing images with QR codes makes it possible for business owners to connect customers to online information about their brand or upcoming store events. LG said that the opportunities for being social and creative with the Pocket Photo are practically limitless.
The LG Pocket Photo supports Bluetooth and near-field communication (NFC). It also employs inkless printing technology from ZINK. This technology eliminates the need for expensive ink cartridges as it uses heat to activate the colour-forming chemistry within the ZINK 2.0 paper. In comparison with conventional printing processes, ZINK's inkless paper system preserves images longer and produces less smearing.