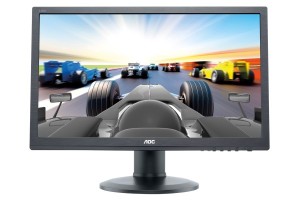 Monitor specialist AOC recently launched a number of new display products for its myDisplay family.
The two latest Style Line products now headline the new myDisplay range. The first is the myUltraSpeed, a 24-inch, Full-HD model, which will be mainly targeted at gamers. The new, 15.6-inch myConnect, on the other hand, sets out to make notebook users' lives easier by extending desktop real estate with its plug-and-play USB connectivity.
AOC claimed that the myUltraSpeed was developed in cooperation with professional gamers. Equipped with a LED-backlit TN panel, the myUltraSpeed delivers a 144 Hz refresh rate – more than double the frames per second rate of conventional LCDs. The ultra-short pixel response time of one millisecond also allows for blur-free images.
The model displays signals via a full set of connectors, including VGA, dual link DVI, HDCP-compatible HDMI as well as a DisplayPort. AOC has also decked out the myUltraSpeed with an integrated USB hub with 4 connectors, including a fast-charge USB port for mobile devices, a headphone output and speakers. In addition, the monitor offers height adjustment, tilt, swivel and pivot (portrait mode) function.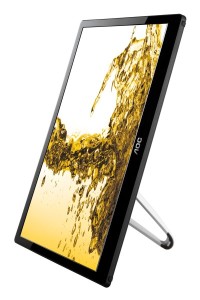 The monitor is currently available in an attractive bundle with a free copy of the online first-person shooter, Shootmania.
In terms of the myConnect, AOC has come up with a monitor targeted at users of netbooks, notebooks or other portable computers. Thanks to the DisplayLink technology, a single USB 3.0 cable connects the ultra-slim monitor with a notebook, for instance, providing mobile users with a dual monitor set-up in an instant.
The Style Line monitor is not only supplied with video signals via the USB cable, but also with power. This is made possible by the display's extremely low power consumption of less than 7 Watts.
With the Smart Auto Pivot function, the content displayed will automatically be rotated as well. The myConnect comes with software that eases the control of brightness, contrast and power settings. Thanks to the USB connectivity, it is possible to hook up six USB displays.