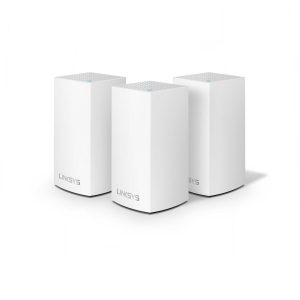 Linksys has announced at CES 2018 in Las Vegas that it is expanding its Velop, whole home mesh Wi-Fi line to include a Dual-Band offering and new software advancements. These new updates enhance performance with Intelligent Mesh technology, security features with advanced parental controls, network traffic monitoring, and web site blocking as well as ease of use with improvements in the Linksys app.
Linksys is expanding its Velop product line to include a Dual-Band modular Wi-Fi system, a mass-market Flexible Wi-Fi System, (available in 1-pack, 2-pack and 3-pack options) that can be installed in various mesh configurations providing fast and reliable Wi-Fi to the edge of a home network.
According to the company, the Velop Dual-Band nodes are designed for performance as well as elegance; they stand about two inches shorter than the Velop Tri-Band solution and small enough to be placed anywhere.
Linksys said, "Each Velop 'node' is a powerful Dual-Band AC1300 device that serves as router, range extender, access point, and bridge, which provides users the future proof technology they need as they bring new and more devices into the home."
"According to Industry Reach Group, NPD – Mesh Wi-Fi systems grew 338 percent in 2017 and will continue to grow in 2018; so, we wanted to make sure that consumers had price and performance options to choose from," said Justin Doucette, senior director of product management, Linksys. "Our new Velop Dual-Band provides the price for performance that customers are looking for plus all the intelligent software and security features that continue to be updated for real time access to the latest enhancements."
Linksys is also introducing Intelligent Mesh, an evolution in Home Wi-Fi engineering, that combines the firm's software and hardware to deliver Wi-Fi via the fastest path to the Internet for the best experience possible. The firm said that intelligent Mesh helps provide better speed at distances, improved client handling between nodes, and dynamic improvements to back-haul to always ensure the best connection to the Internet. Velop Intelligent Mesh is organised into these 4 pillars and works seamlessly and automatically across both Velop Dual-Band and Tri-Band nodes:
Self-Organise:  The Velop system is a modular mesh system that support both Wi-Fi and wired back-haul, configures in AP/Bridge mode, works with any ISP modem or gateway and interoperates seamlessly across Dual-Band and Tri-Band nodes.
Self-Optimise: The Velop system continuously calculates the signal strength and speed between nodes to help deliver the best Internet connection to your devices.
Self-Healing: The Velop system will reconfigure itself if a node goes offline so that the network continues to perform. Also, the Linksys app includes the Channel Finder feature to initiate a new channel scan to avoid interference or crowded wireless signals.
One Network: The Velop system uses one network name, one password, one admin password for a consistent and secure mesh network of multiple nodes. Velop's guest network will extend to all nodes and changing passwords to stay secure only requires a single update in the Linksys app or web interface.
Linksys is adding new software features in its Intelligent Mesh architecture to enhance the performance of Wi-Fi throughout the home as well as new parental control and security features through in-app purchases that will add to the overall value of the system.
The Client Steering by node (Self-Optimise) ensures device is connected to the closest node for optimal performance. The Backhaul Reconnect and Optimisation (Self-Optimise, Self-Configure, Self-Healing) nodes will reestablish best connection to the Internet in the event one of the nodes fails or joins the network. Parental control improvements including website category content filtering with allow and block overrides.
The Linksys Velop Dual-Band Whole Home Mesh Wi-Fi System (available in 1-pack, 2-pack and 3-pack) is expected to be available this spring in US and Canada. Prices will be announced when product is available at major retail and online stores. The company said pricing and availability for the EMEA region will be announced at a later stage.