Linksys has launched a new cloud management solution aimed at SMB clients, which it says could reduce IT costs by almost 50 per cent.
Built on enterprise grade hardware the new solution is being dubbed as a cost effective with central management features with no recurring fee or licensing costs for the next five years.
"There is a gap in the Middle East market for affordable, business-grade cloud managed WiFi management platforms designed specifically for SMBs," said Amanulla Khan, Managing Director Linksys Middle East, Turkey and Africa. "Current offerings are either built with consumer-grade hardware or with expensive, enterprise features with prohibitive annual hosting fees.  A common complaint is enterprise offerings are complex and over-engineered with features and functionality beyond the usual requirements of a small business network."
Linksys Cloud Manager enables IT administrators and other authorized users to remotely monitor, manage and troubleshoot single or distributed wireless networks in real time via a single dashboard and sign-on. This plug-n-play platform helps provide secure remote access to Linksys Business Wireless-AC Access Points, which are built with enterprise-grade, high-performance hardware, and is competitively priced with no licensing or maintenance fees for five years*. The included cloud license fits any budget and provides a complete solution for IT solutions providers and their SMB customers.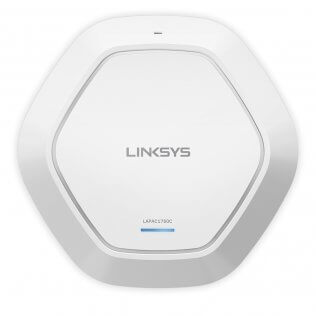 The Cloud Manager will also allow VARs and MSPs to cater to their SMB clientele, allowing them to offer a completely new era of networking solutions to SMBs.
"While investigating the needs of SMBs, we quickly realized they had the needs of larger companies, but the market lacked an affordable and easy-to-use cloud management system," said Anthony Pham, senior product manager, Linksys.
Linksys says its new offering will be an ideal solution for resellers and IT solutions providers looking to develop a managed service model and generate recurring revenue.
There are a total of three models – AC 1200 and AC1750- both of which are available for retail. AC2600 will be launched soon and will be available for retail starting November 2018.
Among its key features are:
Centralized Management via a Global Map – Manage multiple, unlimited client WiFi networks around the corner or around the world from one centralized dashboard with a single login. Visibility of all accounts, sites, access points, and devices.
Remote Monitoring and Network Insights – Provides alerts and real-time statistics so network administrators can anticipate potential network issues without the need for on-site monitoring and troubleshooting.  View through a web browser, historical and real-time traffic on the network, at-a-glance analytics about top clients and devices, including uptime, signal strength, connection duration, etc.  Built-in troubleshooting tools to identify problems using features such as a Ping Test, Blink LED, RF Environment Scan, and Rogue Access Point Detection.
Scalability – Scales seamlessly from single sites to unlimited networks worldwide; suitability for distributed networks (e.g., retail/branch offices).
Rapid Deployment with Zero-touch Provisioning – Configure APs even before unboxing them enabling a quick and simple installation process. After deployment, Linksys APs automatically connect to the cloud over SSL and can be configured remotely, whether they are offline or online. Users can provision the network in minutes with a few clicks.
Over-the-air Upgrades – Firmware is automatically updated.
Email and Text Push Notifications – Message alerts and warnings on network and device connectivity and network health re: power loss, downtime, or configuration changes.
Extremely Easy to Use Management Portal – An intuitive, browser-based dashboard and responsive user interface enables IT administrators to provision networks on the go from a laptop, tablet, or mobile phone, with no additional app to download.
Flexibility – With no vendor lock in, customers can use a local interface to manage Linksys APs if cloud is no longer required.
Multi-role Platform – Multi-management level accounts give users the ability to set roles (owner, admin, viewer) and provide key users access to specific networks.