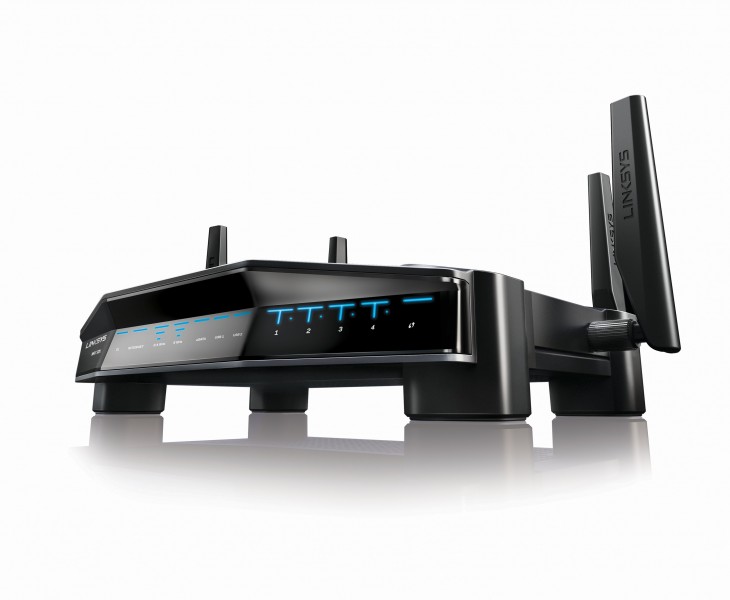 Linksys and Rivet Networks has announced the upcoming availability of the new Linksys WRT gaming edition router – the WRT32X.
According to both companies, the partnership is the first of its kind collaboration.
Linksys and Rivet Networks teamed to incorporate the Killer Prioritization Engine (KPE) to provide serious online gamers the only router optimised for high-speed gaming for users with Killer-enabled gaming PCs.
The KPE optimises traffic for low latency and less lag and ensures that the Killer-enabled PC's gaming, audio, and video is fast and smooth, while simultaneously managing other online traffic in the home to ensure other devices and activities are not compromised. The new firmware and graphical user interface (GUI) was also custom-built from the ground up with a focus on monitoring and controlling gaming network traffic.  The Linksys WRT32X will be available at retail outlets in the UAE and Saudi Arabia in October.
"Gaming enthusiasts spend serious money on game play and they want technology that gives them a clear advantage over their rivals," said Amanullah Khan, managing director, Linksys, Middle East, Turkey and Africa. "The Linksys WRT32X offers features no other router has – the Killer Prioritization Engine. When this is paired with a Killer-enabled PC, such as those made by Alienware, Gigabyte, MSI, or Razer, they will experience a dynamic end-to-end connection. It works by prioritising gaming traffic, slashing peak ping times by up to 77 percent – giving them a clear edge over opponents who use regular gaming routers."
Khan continued, "During our research into the way serious gamers use their Internet connections and the kind of networking technology they have at home, we initially though they were using so-called 'gaming routers'. But when we looked into this, we found out they were using regular routers, modified with 'gamer-bait' visual accents. This had been slickly marketed but there was no substance and nothing truly innovative."
Linksys used these insights to develop a gaming-focused router, the WRT32X. The router utilises enterprise-grade hardware DNA of the kind found in the WRT line, but the performance of the WRT32X was built from the ground up. With its all-new firmware and software, and performance networking platform, it delivers the best possible online gaming experience.
The WRT32X utilises the Killer Prioritization Engine (KPE) to determine which devices are connected to the router that are enabled with and using Killer Networking hardware. This hardware can be found in gaming and performance PCs and motherboards from companies like Dell (Both Alienware and XPS models), Gigabyte, MSI, or Razer, as well as Acer, Lenovo, and more.
Gamers will also welcome the new custom-built firmware and GUI specifically for this WRT32X.  The firmware won't be found on any other router, according to Linksys.  The GUI is used to promote important network settings for gaming, provide network usage statics, and it's wrapped in a design that appeals to gamers while matching the edgy design of the WRT hardware. The new GUI also has a unified responsive design across the desktop, table and mobile device.
The WRT32X Wi-Fi Gaming Router is equipped with 1.8 GHz Dual-Core ARM CPU, 802.11ac Wave 2 Dual-band 3×3 wireless radio, 256MB Flash and 512MB of DDR3 Memory, and 5-port SOHO-grade Gigabit Ethernet switch with TCAM.  For the software, the core firmware level uses the latest stable Linux kernel version for a streamlined and lightweight code base with low latency as the top focus. The secret ingredient and key innovation is the integration of the Killer Prioritization Engine.