Malwarebytes, the advanced malware prevention and remediation solution company, has announced the release of Malwarebytes 3.0, its next generation antivirus replacement.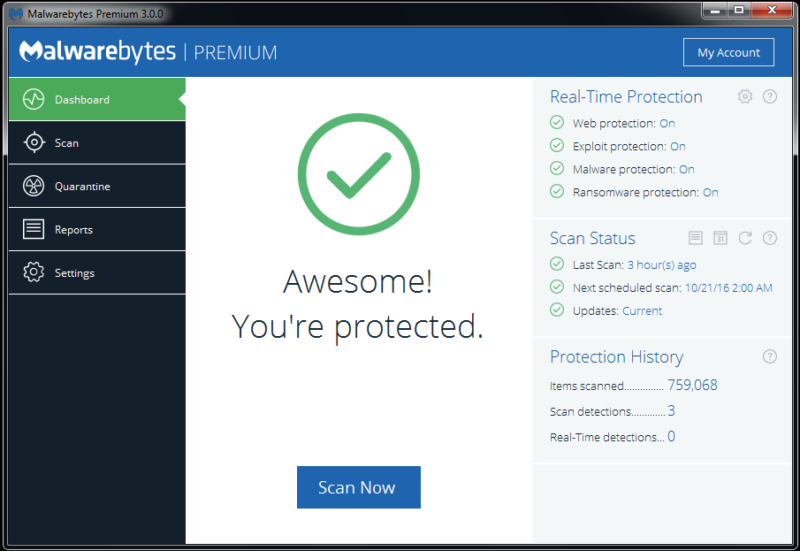 "Our customers have made it clear that they want an all-in-one solution from Malwarebytes to protect their PCs," said Marcin Kleczynski, CEO, Malwarebytes. "With Malwarebytes 3.0, we are introducing a new generation of computer security. We built the solution with the understanding that combining proactive and signature-less technologies with traditional heuristics is the most effective way of protecting users. Individuals can now leverage Malwarebytes 3.0 to replace or enhance their traditional antivirus protections, and have confidence that they are safe online."
According to the FBI, cyber-extortion losses have skyrocketed, with ransomware on track to become a $1 billion a year crime in 2016. Malwarebytes empowers people to protect themselves against these advanced threats with Malwarebytes 3.0. The solution replaces antivirus with superior technology designed to block malware, ransomware, exploits, and other advanced threats that antivirus isn't smart enough to stop. Malwarebytes 3.0 is the first of its kind, employing four independent technology modules—anti-malware, anti-ransomware, anti-exploit, and malicious website protection—to block and remove both known and unknown threats. The anti-ransomware and anti-exploit modules employ signature-less technology so users are protected from advanced threats that are not yet known to traditional antivirus research labs. The solution also scans 4x faster than its predecessor, Malwarebytes Anti-Malware.
"Although awareness of cyber threats and the potential consequences has never been higher, we still see a general lack of willingness to adopt new security solutions or change risky practices," said Mike Jude, Stratecast Program Manager at Frost and Sullivan. "We believe this is partially due to the lack of intuitive, user-friendly security solutions. Whether a decision-maker in a small or midsized business or an individual consumer, each is reluctant to upgrade computer security because of the complexity of adopting multiple solutions, potentially from multiple vendors. Malwarebytes 3.0 tackles this issue head-on with first-class protection in a single solution."