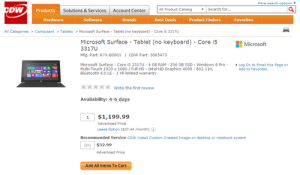 Monday morning, Microsoft announced that a plethora of new channel partners will soon carry the company's Surface tablets. Mere hours later, one of the new resellers – CDW – was caught offering a previously unannounced variant of the Surface Pro, which will be aimed squarely at businesses and other organisations. So much for basking in the afterglow! 
The CDW listing, which was first spotted by WPCentral, reveals a $1,200 Surface Pro with a 256GB solid state drive. Currently, Microsoft only officially offers Surface Pro tablets with either 64GB or 128GB of on-board storage, at $900 and $1,000, respectively. Aside from the increased storage capacity, the 256GB Surface Pro mirrors the hardware of its siblings.
Here's what a Microsoft representative had to say about the new hardware:
"Yes, there will be limited availability of a 256GB version of Surface Pro in the U.S. exclusively through the commercial channel and authorised Surface resellers. We're excited about the resellers we've named in today's announcement because they are so well equipped and experienced to work with their customers to develop the precise/best solutions for their unique needs."
While the method of unveiling the 256GB Surface Pro is a bit surprising, the hardware itself isn't: A 256GB Surface Pro launched in Japan just a couple of weeks back.
The Japanese tablet also included Office 2013. Rumours of Office bundles for Windows 8 slates have been swirling up a storm the past few months, and you can find Office included in the Acer Iconia W3, the first eight-inch Windows tablet. Microsoft, however, says that the Japanese offer was targeted toward consumers, whereas the 256GB Surface Pro available in the U.S. will be available only to distributors and resellers, who will then sell the tablets to schools, companies, and other organisations. The Office 2013 Home & Student version that comes with the Japanese iteration of the tablet isn't licensed for business use, in any case.
One other thing is notably missing from the bigger, badder Surface Pro: An energy-efficient Haswell processor. Yes, the 256GB model rocks the same Intel Ivy Bridge Core i5-3317U Ultrabook CPU as the original Surface Pro. Considering the tablet's lacklustre battery life, that's a bit disappointing. If your company would be better suited by a Surface Pro with a big hard drive and better battery life, you might want to wait a few months to see if a Haswell refresh is incoming.