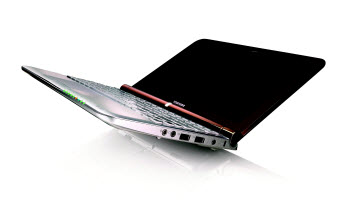 The Toshiba Mini NB305-N410 is a basic netbook that's pretty solid, with decent specs: a 250GB hard drive, 1GB of RAM, and Windows7 Starter Edition; however, it is priced a bit higher than similarly configured netbooks.
Our unit featured a 1.66GHz Intel Atom N450 processor (with an integrated Intel GPU), 1GB of RAM, a 250GB hard drive, and Windows 7 Starter Edition. It also has 802.11b/g/n Wi-Fi (but no Bluetooth), a built-in microphone and Webcam, and a one-year limited warranty. The system comes in blue, brown and white.
The NB305-N410 weighs 2.9 pounds (with the battery), and measures 10.5 inches wide by 7.6 inches tall by 1.4 inches thick, with a 10.1-inch widescreen display. Part of that weight is the battery, which Toshiba claims will give you 11 hours of use (it lasted about 9 hours in our tests).
The NB305-N410 isn't the most attractive of netbooks, but it is sturdily built and looks professional. This Mini features a shiny, textured lid and a silver interior finish. The bezel around the screen, while a bit wide, has the same textured pattern as the lid and trackpad, which ties everything together nicely. The battery makes the back end of the NB305-N410 slightly thicker, but it is unobtrusively tucked underneath the chassis. The netbook has three USB ports, an Ethernet port, a VGA port, an SD card reader, and audio and microphone jacks.
The keyboard is a good size for a netbook. Despite the decent size, the keyboard is still a hassle to type on, as the keys are slightly off in their placing and wider than they are tall. The function buttons are absolutely tiny. The spacebar is small, but the shift keys are a pretty good size.
The trackpad is absolutely huge for a netbook, and features two separate buttons.
The 10.1-inch LED-backlit widescreen has a native resolution of 1024×600 pixels, which is average for a netbook. The glossy screen is actually one of the better netbook screens I've seen, and was quite easy to read, even in bright sunlight.
The speakers are located on the bottom of the chassis, which means they're not terribly loud, especially if you're sitting with the netbook on your lap. The sound quality is pretty good; a little tinny, but tolerable.
Video playback on the NB304-N410 is decent. Full-screen playback, unfortunately, produces a lot of stutter, in both high- and standard-definition videos.
The NB305-N410 comes preinstalled with Windows 7 Starter Edition. Toshiba includes a few of its own apps, such as PC Health Monitor and Eco Utility, which will help you make sure you're using as little power as necessary.
Overall, the Toshiba NB305-N410 is solid. It has a decently sized keyboard, a great big trackpad, and a very comfortable screen. It's not great for playing back video or listening to music — though the speakers are louder than many netbooks' speakers — and it won't win you a ton of points in the style department.
VERDICT:
Aye (watch out for the video playback though)