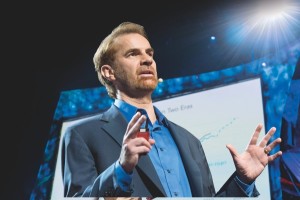 The Director of the Massachusetts Institute of Technology's Centre for Digital Business today discussed the pervasive impact of the digital revolution on societies and economies across the world, highlighting Dubai as a leader in the field.
Dr Erik Brynjolfsson, made his comments during the first day of The Government Summit, held in Dubai.
He cited Dubai as a leader in successfully harnessing digital revolution by investing in high-tech infrastructure. Dr Brynjolfsson encouraged other nations to display such foresight in order to avoid being left behind and considered uncompetitive.
He explored how rapid advances in information technology have created a digital revolution.
"There is no doubt that we are living in an era of rapid change," he said. "The evolution of digital technologies has never been quicker and is only continuing to accelerate. Meanwhile, globally, our skills, organisations and institutions are often lagging behind and failing to adjust to the rapid progress. This will not be solved by adopting a 'business as usual' approach and nations should follow the lead of Dubai in considering projects which benefit the economy and people across the full spectrum of society. Only by investing in the future will we avoid a situation where millions of people are left behind.
"In the same way that the industrial revolution transformed the world in the 19th century, the 21st century is being shaped by the evolution of technology on an unprecedented scale. If exploited effectively, this has the potential to create widespread benefits and sustainable wealth across society, although it remains essential to ensure that inequality is avoided."
Brynjolfsson also discussed how improvements in information technology contribute to business performance and organisational change, using examples of how advances in robotics and the self-driving car are changing the manner in which humans go about their day-to-day lives.
Building on the key themes of his book, The Second Machine Age, Brynjolfsson assessed how investments in computers and networks alter economic growth, industry structure, and labour demand.
One potential challenge raised was the impact on low-skilled workers and wages, as the advancement of technology means that such roles can be done more economically by machines rather than humans.
The theme for the third edition of the Dubai Government Summit 2015 is 'Shaping Future Governments', which is being held from February 9th-11th.