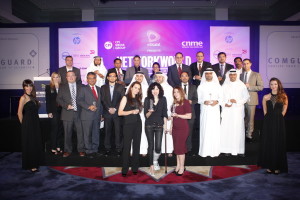 The judges for CNME's sixth annual Network World Middle East awards have been announced, comprising IT leaders from a variety of influential companies across the region. 
The ceremony has established itself as the major event for celebrating networking excellence in the Middle East.
Open to users and vendors alike, Network World ME Awards honours IT and business professionals who have demonstrated innovative leadership on all sides of the industry.
Following the tremendous success of the previous five ceremonies, CNME is now looking for networking projects that have produced real-world results over the past year and the technology providers behind them.
The 2015 Awards are open to companies anywhere in the Middle East.
The ceremony will take place on Monday 23rd March at Jumeirah Beach Hotel's Safinah Ballroom in Dubai.
The judges for the ceremony will be:

Arun Tewary
Arun Tewary is CIO and Vice President for IT at Emirates Flight Catering in Dubai. Emirates Flight Catering employees more than 6,500 people and is responsible for producing an average of 125,000 meals per day. Tewary's expertise is in the implementation of ERP systems in complex business environments, with an emphasis on implementing best business practices and organisational change management. He has more than 25 years of experience in the IT industry with Tata Steel, Essar Steel, Al Futtaim Group, and Emaar Properties.

Esam Hadi
With over 32 years of experience in IT, Esam Hadi, Senior Manager, Information Technology, Aluminium Bahrain BSC (Alba), manages the technology infrastructure and applications required by the organisation. With a Bachelor of Sciences in Informatics Degree from the University of Portsmouth, United Kingdom, under his belt, he is the first Bahraini to be certified as an SAP Production Planning Consultant in 2002.

Madhav Rao
Madhav Rao is the Chief Information Officer of Emke Group, and has been associated with Lulu's IT arms since 1991.  In 2013 his Emke IT team became the first in the Middle East to convert from Business Warehouse Acceleration technology to SAP HANA in a scale-out model. He holds an MBA in Information Technology from Dubai Knowledge Village.

Paul Black
Paul Black is responsible for all telecoms and media consulting and research projects for the Middle East, Africa, and Turkey at IDC. With over 14 years' experience in telecommunications spanning Europe, the Middle East, and Africa, he has managed a vast array of high-profile projects including startup operations, business processes, strategic planning, and product and service portfolio creation.