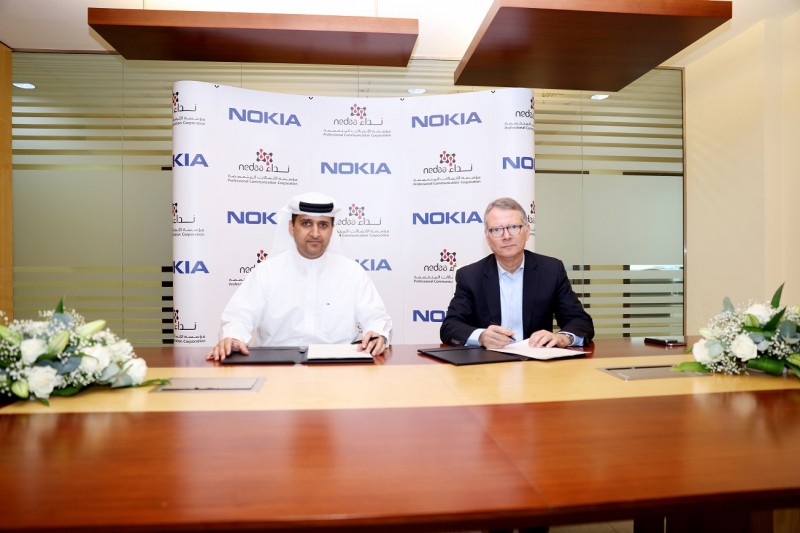 Nedaa, the Dubai Government security networks provider, has signed an agreement with Finnish multinational ICT company Nokia formally designating Dubai as the headquarters of the latter's pioneering Innovation and Creativity Lab.
In December 2016, Nedaa and Nokia have formed a strategic partnership to develop the lab as a key contributor to Dubai's 'Smart City' initiative envisioned by H.H. Sheikh Mohammed bin Rashid Al Maktoum, Vice President and Prime Minister of the UAE and Ruler of Dubai.
The region's 'first-of-its-kind' research and innovation hub will introduce creative solutions for education, health, utilities, and transport with local government agencies, the Smart Dubai project, educational and healthcare institutions, and private companies involved in the development and implementation of Smart City applications as primary beneficiaries.
According to the both organisation, a key feature of the agreement is the Emiratisation of all positions and jobs and the training and qualification of employed UAE Nationals to international standards. Nokia will also grant Nedaa and approved technology partner Esharah Etisalat Security Solutions access to its advanced radio systems and Intelligent Management Platform for All Connected Things (IMPACT), the company's innovative Internet of Things (IoT) platform.
Mansoor Bu Osaiba, CEO, Nedaa, said, "Now, we can start following our cooperative roadmap with Nokia to help accelerate Dubai's transformation into a truly Smart City. We will be bringing top Emirati talents onboard in keeping with the UAE's vision of empowering its citizens to proactively participate in key sectors such as information and communications technology (ICT) that will underpin country's transition to a Post-Oil Era. We look forward to commencing the lab's operations within the next few months."
Other salient provisions under the Nedaa-Nokia Innovation and Creativity Lab partnership include the training of the Dubai Government's employees and fourth-generation technicians; development, testing and deployment of IoT communications interface operations through approved networks from Nedaa; and the enrichment of national intellectual property through support for research and development.
Amr El-Leithy, Head of Middle East & Africa, Nokia, said, "After months of scouting we now have a worthy base of operations for our Innovation and Creativity Lab from where we will partner with Nedaa to innovate Dubai's ICT landscape. This latest development takes us several steps closer towards achieving Dubai's dream of an inclusive, connected and technology-empowered society."
The highly-anticipated Nedaa-Nokia Innovation and Creativity Lab is scheduled to start operations within the next few months.