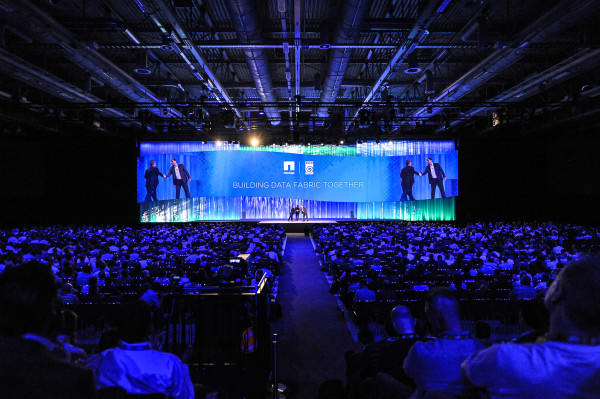 NetApp recently hosted its annual technical conference Insight in Berlin, Germany. With almost 3,500 customers, partners, engineers and consultants in attendance, the event was held from 16th to 19th November, and discussed how NetApp's Data Fabric vision is becoming a reality.
Attendees had a choice of 300 break-out sessions and earned over 1000 new certifications, a 45 percent increase over last year's total, quickly building new growth in NetApp knowledge and skills in the marketplace in just four days.
Manfred Reitner, NetApp Senior Vice President and General Manager EMEA, said, "With customers from 62 countries in attendance, this is truly a global event. It is becoming clearer to our partners and customers that Data Fabric isn't just a neatly packaged solution – it's about helping customers embrace the age of digitisation and welcome disruption offset by the Cloud."
The top two challenges for embracing cloud are "ease of integration with existing systems" (52 percent) followed closely by "data security concerns" (51 percent). This was the conclusion of an online survey conducted by NetApp asking event participants about the top challenges facing cloud adoption. 'Data security; (38 percent) and "ease of implementation (36 percent) ranked third and fourth on the list of top concerns among NetApp Insight Berlin attendees.
Customers like DARZ – a German cloud service provider, DWS – German Weather Service, or Tiscali – an Italian telecom leader, also shared their perspectives and solutions on how they make secure hybrid or multi-clouds a reality for the benefit of their customers. Keynote speaker Chris Anderson, former Editor-in-Chief at Wired magazine and CEO of 3D Robotics, also have insights on drones in the future may rely on Data Fabric architecture.
Insight attendees, when asked if six percent of IT Services are delivered via Hybrid Cloud today, where would they expect the market to be five years from now, over one-third of the responders expect the market to grow in the range of 26-51 percent. One-fourth even expect to see a 52 to 75 percent increase.
NetApp is addressing this demand and in the course of the event announced new products, solutions, and services to enhance ease of use and performance as partners and customers manage, move and protect their data in the hybrid cloud. NetApp's announcements covered:
StorageGRID Webscale 10.2
New SnapCenter
New Commvault IntelliSnap for NetApp
Expanded Synchronous Replication with MetroCluster
Enhanced Professional Services for Disaster Recovery Solutions
Flash for the price of disk
Extension of 3x Performance Guarantee Offer
New release of clustered Data ONTAP with Inline Dedupe and Copy Free Transition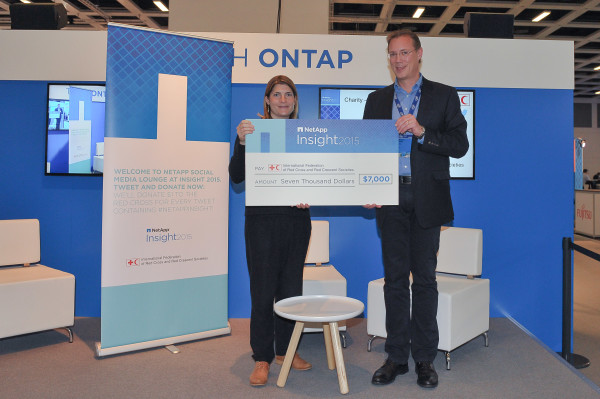 On the closing day of Insight 2015 in Berlin, NetApp handed over a check donating $7,000 to the German Red Cross represented onsite by its Foreign Aid Foundation. In order to raise the money, NetApp invited its Insight participants to engage on Twitter and for every mention of the hashtag #NetAppInsight the company would donate one US-dollar to the Red Cross. As part of NetApp's value of engaging in the community wherever the company does business, NetApp's goal was to make a modest contribution by increasing awareness and sensitivity for people in need – especially in light of the situation of many refugees in Germany.