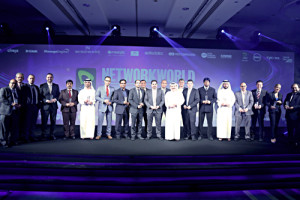 CNME's prestigious Network World Middle East awards honoured the region's top networking talent last night at the Safinah Ballroom in Jumeirah Beach Hotel, Dubai. 
The sixth annual function comprised IT leaders from a variety of influential companies across the region.
The ceremony has established itself as the major event for celebrating networking excellence in the Middle East.
Open to users and vendors alike, Network World ME Awards honoured IT and business professionals who have demonstrated innovative leadership on all sides of the industry.
Following the tremendous success of the previous five ceremonies, CNME assessed 2014's networking projects that have produced real-world results and the technology providers behind them.
Judges for the event include Arun Tewary, who is Chief Information Officer and Vice President for IT at Emirates Flight Catering, Esam Hadi, Aluminium Bahrain's Senior IT Manager, Emke Group's CIO Madhav Rao, and IDC's Director of Telecoms and Media for the Middle East, Africa and Turkey, Paul Black.
All the staff at CNME would like to congratulate all award winners and nominees, who have been catalysts for immense progress in the Middle East's IT scene over the last 12 months.
Here is the full list of end user and vendor award winners:
End user awards
Collaboration project – Abu Dhabi Police
Storage project – General Civil Aviation Authority
Network Cabling – Gulftainer
Network Optimisation project – ADMA OPCO
Data centre project – Etisalat
Enterprise Mobility project – African Eastern
Virtualisation project – Gulf Air
Network security project – General Pension and Security Authority
Networking Project in the Public Sector – Dubai Municipality
Networking Project in the Private Sector – Dubai Financial Market
Editor's Choice – Higher Colleges of Technology
Editor's choice – MBC
Vendor awards
Data centre networking – Cisco
Network management and monitoring vendor – Riverbed Technology
Network optimisation vendor – F5 Networks
Wireless vendor of the year – Huawei
Structured cabling vendor – Nexans Cabling Solutions
Network Security vendor – Fortinet
Enterprise Collaboration Vendor – Alcatel-Lucent Enterprise
Best network training provider – Spectrum Training
Best return on investment – Dell
Networking value-added distributor – Redington Gulf Value Distribution
Networking vendor of the year – Avaya