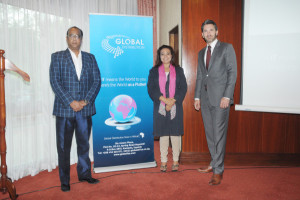 Global Distribution held its first Reseller Partner Event at the Serena Hotel in Kampala, Uganda to mark the inauguration of its east Africa office and entry into the African market.
Global's senior management from Dubai and the newly appointed team from Kampala joined the event.
More than 35 resellers from Uganda attended the event, which focused on introducing Global Distribution and its solutions vendor portfolio.
Partners including The Copy Cat, Mercury, Mantra Technologies, PC-World Computers, Southern Business Solutions, MFI and many other VAR's from Uganda joined the event.
"Global is continuously investing in building a strong Partner community on all continents and is very proud to have made an entry into Africa with its Solutions Portfolio now, too," said Parvez Ahmed, Executive Director, Global Distribution Group. "We are very happy with the positive response we have received from partners and vendors alike for this new venture. It's a proud moment for us to have most of local key partners attending and supporting this events and our entry into the African market."
"Partner Events are an important element of Global's business development strategy," said Mario M. Veljovic, VP Solutions, MENA, Global Distribution. "It's an efficient and effective tool to interact with key technology and channel professionals. We have invested into new and proven technologies for the African Market to ensure our partners are getting the 'best-of-breed' from each technology segment."