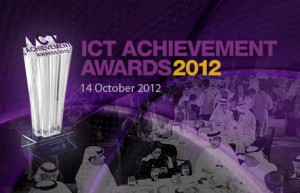 CNME, the premier technology title of the Middle East, has announced that nominations are now open for the annual ICT Achievement Awards.
ICT Achievement Awards 2012 will set the standard for awards functions of the ICT industry in the Middle East for the third year in a row.
"As the region recovered from the recession, last year's Awards was about identifying and honouring the enterprises and individuals who had used technology to effectively support functions of recovery within the organisation," said Richard Judd, MD at CPI Technology and Business.
"ICT Achievement Awards 2012 is quite different. This year around its focus is turning rapidly to innovation and dare-devilry in the use of the latest in technology, as regional organisations return aggressively to growth paths. As budgets regain strength among most enterprises, and as some particular verticals push for aggressive expansion plans, this year's Awards ceremony looks to crown the IT heads and the companies that are truly setting the trend for everyone else to follow in the region," he added.
Even as innovation remains the focus for this year's Awards, the category winners would also have displayed extraordinary logic and far-sightedness in the use of available resources, to consistently provide ROI for their firms (or end-user customers in the case of vendors and service providers) – sometimes in the short term, and always in the long term.
"We are proud to open nominations for this year's ICT Achievement Awards 2012. We are sure the industry will send in a record number of submissions this year as well, and rest assured, we will be working very hard to choose the best among each category. The deadline for submitting nominations across all categories is the 30th of August 2012," said Sathya Mithra Ashok, Senior Editor on CPI Technology.
ICT Achievement Awards 2012 will bring together prominent industry stakeholders from across the region as it recognises the best among twenty different categories. It will be held on the 14th of October 2012 (the first day of GITEX Technology Week).
For further information on CNME's ICT Achievement Awards, the categories, the nomination process and the nomination form itself, please visit www.ictachievementawards.com