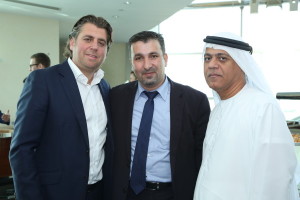 Web-scale converged infrastructure firm Nutanix has announced it is expanding its presence in the Middle East with investment in its local pre-sales and support teams.
Focused initially on Gulf Cooperation Council (GCC) countries, Nutanix recently closed a $140 million Series E funding round, valuing the company at over $2 billion.
The company has appointed Ahmad Qadri as its regional director for the region. He and his team are working on strategic partnerships with organisations like Ankabut to provide technological resources across the Middle East.
"The data centre of today is a mess, with inflexible silos that are difficult to manage," Dirk Marichal, VP, Sales, Europe, Middle East and Africa, Nutanix, said. "Building infrastructure in legacy ways will not last in the future. In five years' time, everything will be software-defined, with the future data centre being easy to upgrade, highly consolidated and scalable. As we grow our business around the world, we see great potential in the Middle East where the government and private sectors are working together to expand and invest in infrastructure. We're currently successfully deployed in major large corporate accounts across GCC countries, including academic institutions, government agencies, investment and finance institutions and oil and gas companies. Our strategy is to make sure that we have on-the-ground resources to support our channel network as well as our customers in the region."
Nutanix also shared details of its recent announcement as part of its OEM agreement with Dell.
Basil Ayyas, Marketing Director, Dell Middle East, said, "As customers seek solutions to overcome their most pressing pain points, Web-scale IT is making huge inroads compared to traditional  DAS, NAS and SAN architectures. The Dell XC-series appliance integrates Dell's proven x86 server platform (PowerEdge R720xd) and Nutanix web-scale software to provide an uncompromisingly simple and cost-effective solution with enterprise class performance, scalability, availability and data management features. We are looking forward to working with the local Nutanix team."
As part of its global multiple distribution strategy, Nutanix is looking to appoint additional channel partners in the key GCC countries.