The French company, PackshotCreator solutions provider for product photos and animations destined to the e-commerce and the marketing, is launching two major 3d animation solution products at Gitex 2013.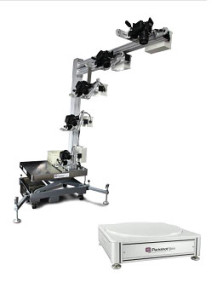 PackshotSphere X5 : The station to create 3D animations of products up to 1,20 meter wide. Five cameras are triggered simultaneously to create Realistic 3D animations of plus-size items, all in just a few minutes.
PackshotSphere X5 is equipped with 5 cameras and offers a hemispherical view of a product in real time. In just one single click, this station can capture up to 1800 HD views of a large product – the recommended product size is 1,20 meter wide.
The included software controls the different cameras, the synchronization with the turntable, the photo capture and the creation of animations. The new software version is even more user-friendly and is oriented to increase productivity, according to PackshotCreator; It also features a new interface to optimize images.
The creation of multi-angle views is fully automated and aims at being much more efficient through the use of the 5 controlled cameras. The resulting animation lets you browse in depth into your product image. The process of creating realistic 3D animations from a series of HD images is the only way to obtain a flawless texture and color rendering. Even the leather grain is visible on a hand bag through the deep zoom feature.
For advanced users, images and animations can be saved in RAW or JPEG formats; animations can be generated in the Flash and HTML5 formats, which ensures smartphone and tablet compatibility. Internet users are thus invited to virtually touch the product with their fingers, examine the item under all angles and zoom in to reach even the smallest details. As a result, the user is offered a unique online experience from which e-commerce websites can benefit a great deal.
PackshotMacro R: A solution designed for Jewelers and Clockmakers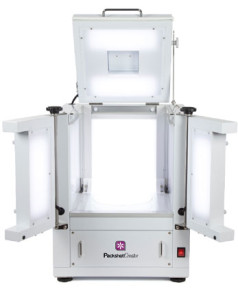 . PackshotMacro R is a solution aimed at jewelers to enable watchmaking and jewelry professionals to create their own images and animations of watches or jewelry for their marketing, web, quality control or customer service needs.
PackshotMacro R is designed for watchmaking and jewelry professionals so they can photograph all products: jewelry, gems, watches, cases, accessories, spare parts. No special skill is required and its use is within the reach of all according to Packshot.
The use of PackshotMacro R enables to create pictures while handling shadows and reflections. It is even possible to create images or 360 degree animations on a pure white background in just a few minutes.
The software is easy to use and comes with a step by step guide for the users to create visuals. Everything is controlled with a few clicks of the mouse: light, colors, creation of animations, file format (jpeg, flash, html5, etc).
PackshotMacro R comes with a set of a ligthbox with full, homogeneous lighting that can be modulated on 6 distinct areas all around the product (back, sides, front, top and bottom) made of nearly 2000 LED; A transparent and backlit glass turntable perfectly synchronized with the camera and PackshotCreator software to ensure, to the nearest degree, a perfect rotation of products. It supports objects weighing up to 1kg from full backlighting, including for 360 degree animations; Two LED spotlights of different intensity complete this full backlighting aimed to light up and refine colored or transparent gems; A PackshotCreator software to handle the creation of images from beginning to end.