PayPal has launched a chip and pin reader which allows small businesses to securely accept credit and debit card payments wherever they do business.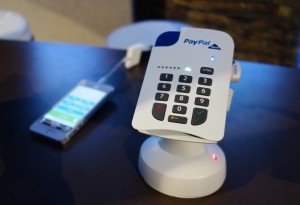 Built for businesses which traditionally rely on cash, PayPal hopes the likes of market stall owners, taxi drivers and tradesmen will adopt the system.
The PayPal Here reader costs £99. Users get started by downloading a PayPal Here app onto their smartphone from iTunes (for Apple iOS phones) or Google Play (for Android phones).
They then enter a few details about their business and order the card reader through the app. They then pair their phone with the reader via Bluetooth and can then start taking payments.
There is a 2.75 percent transaction fee for every payment accepted with Chip and PIN cards, and a fee of 3.40 percent plus 20 pence is charged for less secure card payments made by swiping the magnetic stripe or manually keying in details of cards.
The reader can also be used to send electronic receipts and invoices to customers.
The reader launch follows the introduction of PayPal's "Check in" service on the PayPal app, which allows customers to pay for items in shops using a profile picture sent to shop tills.