A Brazil-based security firm has claimed that its futuristic artificial intelligence and camera technology could make Dubai the world's safest smart city.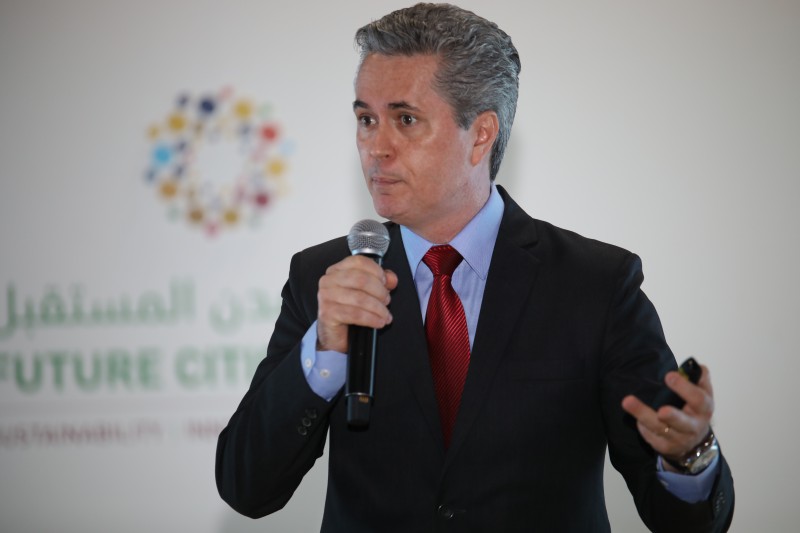 Speaking to Tahawul Tech on the sidelines of the Future Cities Show in Dubai this week, Polsec CEO Renato Werner explained how the technology has played a part in reducing the crime rate of Manaus – the capital of Amazonas state in Brazil, by 70 percent.
Polsec's technology is now being tested across India in Mumbai, Delhi and Agra, and Werner has high hopes that it can soon be brought here to the Middle East.
"I had a conversation with a colleague that was responsible for installing the security surveillance system at Terminal 5 in Heathrow Airport, and he implemented over 5,000 cameras," said Werner. "For every 8 cameras, an individual employee is required to keep watch and analyse the footage, meaning you need a huge team – and they can only work for a maximum of 4 hours at a time. With our technology, we don't require humans to gain insight, as the artificial intelligence can make decisions instantaneously when certain situations arise."
Polsec's solution is equipped with four sensors to give it human-like capabilities, including visual, hearing, audio and smell.
The 'bio-behaviour' visual technology can identify and track even fully-covered people by analysing the way that they walk, and can also be used to identify unusual human behaviour. The example Werner used suggested that the camera would notice if a pensioner fell and was unable to get up – as this would be abnormal behaviour. It could then trigger an ambulance to attend the scene.
The 'bionic-ear' hearing facility can be programmed through voice recognition to listen for specific words, such as 'help' or 'police' and send an immediate report to trigger sending the necessary assistance.
The 'smell' sensors have a variety of uses, such as the ability to effectively monitor the air for pollution or detect and pinpoint chemical attacks and where the worst affected areas are.
Finally, its 'audio' sensors can leverage the visual capabilities to see whether, for example, someone attempting to cross a road is looking down at their phone. It can then trigger an announcement to be made through the camera warning the person against this decision.
Werner went on to explain why the organisation sees Dubai as the ideal city to embrace the technology on a large scale.
"While the crime rate is known to be very low in Dubai, this technology could help the emergency services gain better insights into traffic behaviours, as this is more of an issue in this part of the world," he said.
However, amid recent concerns over personal privacy stemming from the Facebook and Cambridge Analytica saga, Polsec admitted to facing some difficulties in reassuring the public that the technology is purely dedicated to ensuring a more secure society.
"The fact that the technology can listen to conversations seems to be concerning people, when in fact this should not be the case – and is partly why we're here in Dubai to spread this message," he said. "Humans working on analysing the footage, as they are in Heathrow, can listen to everything, yet the AI here will only listen to the signals it has been programmed to. The rest will be processed as blank code."
Werner maintains that regulation is the "word of the day" when it comes to AI, and believes that without it, the technology could become a weapon.
"What we're trying to do is spread our knowledge, experience and intuition around this technology, to show the world its true benefits to ensuring a safe society, and I'm hopeful that we can bring this to the UAE in the near future."