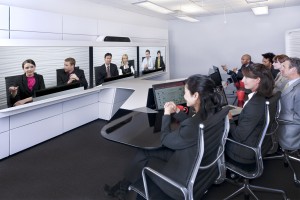 Polycom, a provider of unified communications (UC), will be exhibiting at this year's GITEX Technology Week, in partnership with its regional value added distributor FVC, one of the leading providers of world class conferencing solutions in the Middle East and North Africa, the company said today.
GITEX 2011 will take place between October 9 and 13 at the Dubai International Convention and Exhibition Centre (DICEC). Similarly to last year (pictured above), according to Polycom, it will be exhibiting on FVC's double-decker booth, located at Zabeel Hall Z-H1.
As well showcasing a wide range of products, Polycom will also be carrying out live demonstrations of the Polycom RealPresence Platform utilising RealPresence Experience (RPX) for calls to Polycom in Europe, plus HDX calls to FVC Executive briefing centres, the company added.
Daniel Weisbeck, VP, Marketing, EMEA, Polycom said, "The Middle East is of great importance to us, and we are pleased to be returning to GITEX 2011. Visitors will have the opportunity to experience the latest in Polycom technology, as well as learn about how Polycom is leading the way in reducing carbon footprint in a range of industries from traditional corporations through to broadcast media, healthcare and education. Polycom offers realistic solutions which are rapidly being adopted by business to enhance collaboration, extend global reach, and drive growth."
Key products to be showcased at this year's show include the Polycom RealPresence Experience, Room Telepresence solutions via the HDX Executive collection, demos of the Eagle Eye Director and CX7000 to name a few, Polycom representatives said.
Polycom's EMEA President, Gary Rider will be visiting Dubai to attend GITEX 2011 on October 10 and 11, the company said.