One of the Middle East's online travel agencies, Rehlat, has renewed a long-term agreement with global travel technology provider, Sabre to continue using its technology to power its online platform.
For the past two years, Rehlat has been using Sabre's technology and travel management services to help increase its online conversion performance, grow revenue, improve customer satisfaction levels and personalise the services it offers to its customers.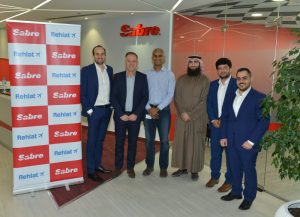 "We have witnessed strong double-digit growth since we launched in 2015," said Bader Al Bader, president and founder of Rehlat.  "Sabre's global expertise in online travel, impressive dedication and cutting-edge technology have enabled us to succeed in a highly competitive marketplace and tap into the growth of the online travel industry. We have also used Sabre's APIs to roll out new capabilities in mobile to meet the growing expectations of our tech-savvy travellers."
Rehlat joins a growing number of agencies in the Middle East that are choosing Sabre's online technology solutions to help them respond to travellers' demands for more personalised and mobile services.
"Consumer behaviour is rapidly changing in the region, and this is fuelled by personal technology that is faster and more accessible," said Raymond Vrijenhoek, vice president Sabre Travel Network Middle East. "Online travel agencies have been quick to respond to this, using the latest Web Service and API technology to give travellers what they want – the right product at the right time and in the right context.  Rehlat shares our passion and trust that technology can simplify the complexity of today's travel, and unlock greater value, revenue and efficiency."
Sabre's travel marketplace plays an important role in facilitating the marketing and sale of airfares, hotel rooms, rental cars, rail tickets and other types of travel to more than 425,000 travel agents and thousands of corporations who use it to shop, book and manage travel.  It is one of the world's largest marketplaces, processing over $120 billion in estimated travel spend each year.