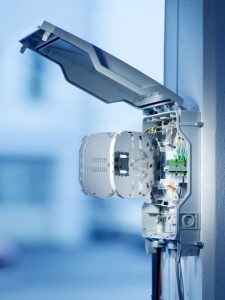 Manufacturer of passive cabling solutions for high-quality network infrastructures R&M has unveiled its new generation of sturdy and flexible connection boxes for fibre optic networks. The Polaris-box 6 has been designed to supply single and multi-dwelling units, terraced houses and comparable building complexes with fibre optics. The firm intends to engage with Middle East telecom providers to deploy the solution in their Fibre-to-the-Home (FTTH) rollouts.
FTTH is a future-proof technology and fast-growing method of providing vastly higher bandwidth to consumers and businesses, enabling more robust video, internet and voice services.
"R&M has been a key technology partner in many of the largest FTTH deployments in the region. Our expertise in this area has led to the development of the Polaris-box with meets many of the key requirements of these undertakings," said Shibu Vahid, head, Technical Operations, R&M Middle East, Turkey and Africa. ""Its area of use ranges from the building entry point on the facade or in the basement through floor distributors to power outlets in offices and apartments. Network operators can set up both point-to-point and point-to-multipoint cabling with the compact FO distributor."
With a dust-tight and waterproof housing and lift-up lid, the Polaris-box can accommodate up to twelve plug and up to 60 splice connections. There is also space for four FMTS 1TPU splice trays or two 2TPU splitter trays which can be inserted and removed with minimal effort.
During development, R&M ensured that the Polaris-box was suitable for any outdoor use. The housing itself fulfils the requirements of protection class IP67. An integrated housing seal made by a two-component injection moulding technique makes sure that dangerous dust and powerful jets of water cannot penetrate the box. The solution's modular cable seal also fulfils IP65 requirements.
"We have designed the solution keeping in mind the challenges associated with field installation which is essential to FTTH projects. With the Polaris-box, installation teams can add individually required connection modules on site itself. Fibre routing and configurations can be modified and retrofitted at any time," explained Vahid. "We have provided three outside installation points with slotted holes to facilitate the fast assembly and exact positioning even on sloping walls."
The solution features knock-out cable grommets on all four sides and on its back, giving installers more leeway when it comes to positioning. For fast access during maintenance, the lid can be opened, removed at 45° or locked at a position of 120° without tools.
R&M is convinced that the unobtrusive design and light synthetic material of the Polaris-box will increase its acceptance by householders. With a height of just six centimetres and otherwise compact dimensions, the Polaris-box 6 can be positioned virtually anywhere in a building, said the company.
The solution is now available through the firm's network of channel partners in the Middle East.