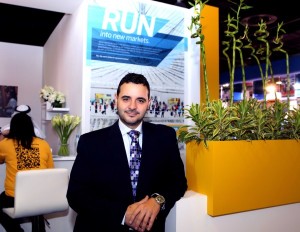 SAP has announced it is will strongly focus on m-Government, cloud, in-memory computing and SMEs at this year's GITEX Technology Week.
In what is its most extensive investment in GITEX Technology Week yet, SAP will also showcase all product lines and services, host key players from its ecosystem and promote its industry expertise.
"With the recent announcement by H.H Sheikh Mohammed bin Rashid Al Maktoum that the UAE is moving towards a mobile government, the ability to provide new, highly-connected, scalable and adaptable solutions for government entities is more pressing than ever," said Sam Alkharrat, Manging Director, SAP MENA.
"Revealing how SAP can make a difference in this hugely exciting and game-changing space will form a central part of our GITEX Technology Week presence this year."
SAP is also keen to flex its cloud muscles in the region. In July's Q2 global earnings announcement, the company revealed triple digit year-over-year growth for cloud subscription and support revenue. Its annual cloud revenue run was reported to exceed €930 Million. And with approximately 30 million users in the cloud, SAP has the largest subscriber base in the cloud market.
"We know the cloud is absolutely an essential part of helping companies run better and there are two aspects to it," said Alkharrat.
"One is the user and how you can create beautiful experiences with lightweight applications, so they can get up and running quickly, use it, get value from it and do their jobs better. Then there's the other part, which is that the cloud can absolutely obliterate a lot of the infrastructure that's bloating companies with too much cost and complexity. This could be redoing a private cloud environment, it could be a public cloud environment and it could be a hybrid of the two. The acquisition of SuccessFactors put DNA for the cloud into our company. Last year's acquisition of Ariba gives SAP the number one cloud-based network for business-to-business commerce and collaboration.  SAP is today a cloud powerhouse."
Another SAP solution likely to generate much GITEX buzz is HANA. The in-memory computing business platform has been described by SAP co-CEO Bill McDermott as "the fastest growing software product in the history of the world", and is rapidly gaining popularity in MENA. HANA is a real-time business platform on which applica­tions can be developed and deployed, and has enabled scores of customers across the globe to cope with issues like the rise of big data and run in smarter, sim­pler and faster ways.
SAP is also keen to emphasise its SME credentials.  Globally, 80 percent of SAP customers are SMEs and 88 percent of SAP's new business clients are SMEs. These small business clients are earning patents at 10 times the rate of larger business clients. Today, 34 percent of SAP's sales come through indirect entrepreneurs.
"SAP understands the unique needs of small and midsize businesses and entrepreneurs," explained Alkharrat.
"This is a company that was started 40 years ago by five entrepreneurs and is now a trusted and reliable partner for SMEs with a long-term growth plan."
"We want to see SMEs that are more agile and able to operate around the clock. We want to see SMEs with enhanced visibility and decision making that can not only lead to better employee productivity, customer engagements and responsiveness, but also help them keep pace with larger companies and gain a competitive edge in their marketplace."
Alkharrat added that he is looking forward to using GITEX Technology Week 2013 as a powerful platform for increasing market awareness about SAP's capabilities.
"GITEX Technology Week stands alone as the top event of its kind in the Middle East, Africa and South Asia region," he said.
"It is absolutely one of the world's best showcases for cutting-edge technology, so it is essential we maintain a high profile throughout the week to educate the market and connect with potential clients."
SAP's stand will be located in the Mobile Applications Section Hall 6 MAC16.