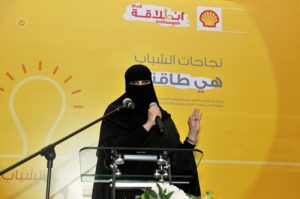 Saudi female entrepreneur, Ghazael Aldossary, working in the petrochemical industry, has been awarded the Merit Prize at Shell LiveWIRE's 'Top Ten Innovators' global competition, said a report in Saudi Gazette.  The event recognises LiveWIRE businesses for exhibiting excellence in innovation.
The winners were announced during Global Entrepreneurship Week (GEW), contributing to a worldwide celebration of entrepreneurship and innovation, according to the event's organisers.
Oriental Promises Trading, Aldossary's firm, brings waste materials to large manufacturers, which can be remodeled for their specific needs. This way the firm reduces the volume of industrial waste going to landfills.
With the focus on recycling of polycarbonate materials, Saudi Gazette reported that the firm's "innovative process converts polycarbonate waste back to its raw material form, closing the loop on a high-demand product."
According to the report, Aldossary was the first female Saudi Arabian entrepreneur to operate in the recycled industrial waste sector. She was also the only winner from the Middle East and North Africa (MENA) region in the competition.
'Top Ten Innovators' is a worldwide competition open to Shell Intilaaqah alumni, the MENA version of Shell LiveWIRE, a Royal Dutch Shell Social Investment Program, which operates in 15 countries, supporting young entrepreneurs.  Shell Intilaaqah encourages business development in countries where Shell has operations.
As per the Saudi Gazette report, the Shell Intilaaqah programme in Saudi Arabia enables entrepreneurs to commence their own business by converting ideas into "sustainable sources of income to create jobs and stimulate local economic growth in the Kingdom."
According to the report, Gazael Aldossary, said, "As a Saudi female, I am humbled and proud to be chosen as one of the Top Ten Innovators global award winners. I would like to thank Shell for their support to Oriental Promises in the past years, which lead to this achievement."
The programme offers training and workshops in business skills; business start-up grants and awards; and brings entrepreneurs to opportunities in those sectors that contribute to the local economy. Additionally, the programme also facilitates access to finance, markets, technology and mentoring.
According to Saudi Gazette, Andrew Crowe, country chairman, Shell Saudi Arabia said, "Shell is keen to continue contributing to achieving the Saudi vision 2030. Shell Intilaaqah helps Saudi entrepreneurs set up businesses, create jobs, generate sources of income for communities by helping to find innovative solutions to economic challenges."
The competition's shortlisted businesses were judged by a global panel of business leaders.
Separately, Saudi Arabia has also been increasing its emphasis on enabling and supporting global entrepreneurs to set up business in the Kingdom.