Stephan Berner, Chief Executive Officer, Help AG, tells Anita Joseph how the cybersecurity industry is transitioning from product-based to service offering–based, and how this is opening up new avenues of opportunity. A Security Advisor Exclusive.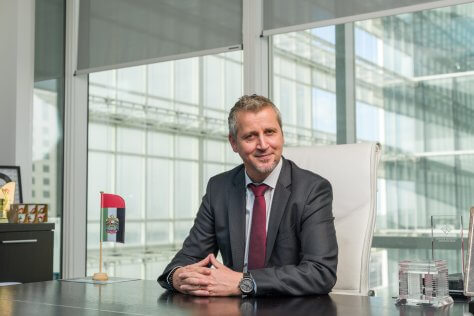 Are businesses transitioning from a "product-based" business model to a "service-offering" based model today? What are the implications of this transition for cybersecurity, in particular? 
As the threat landscape continues to evolve at exponential rates, it is extremely difficult for organisations to maintain cyber resilience by depending only on in-house security teams. This coupled with the global shortage of skilled resources in cybersecurity has led to the need for partnering with expert Managed Security Service Providers (MSSPs), to ensure 24/7 monitoring and incident response. In addition, the predictability that comes with fixed SLAs for service offerings and flexible payment schemes make it all the more a preferred option for enterprises.  
The transition away from the product-based model has increased the importance of the role of MSSPs. When a customer opts to work with an MSSP, they have access to the right and requisite expertise as well as the latest technologies, as MSSPs have been continuously investing in technologies, knowledge, and talent.  
Additionally, the MSSP team functions as an extension to the customers if they have in-house experts or operations, giving customers the benefit of having a collaborative model. 
Finally, working with a service provider also offers predictability, not only from a service perspective, but also from a budget perspective. Customers that utilise a service provider will know what their monthly rental charge is, whereas if they onboarded the technology themselves, they may have to consider unpredictable costs related to operational expenditures, upgrades, and increases in capacity. 
The last few years have seen a spike in the adoption of services like proxies, managed firewall as a service, and secure access service edge (SASE), indicating that customers – rather than onboarding technologies that they would have to manage – are opting to outsource security operations to an expert that will allow them to contract on an SLA-based offering. 
Today, security solutions must be tied to both high-level corporate goals and to everyday end-user realities as a result of the potential for increased risk to enterprise assets. What is the security impact of these new end-user realities?  
Even with all the best security measures in place, network security is only as good as its weakest link which, in most cases, is the end user. Considering the shift to remote work due to the pandemic, and the increased adoption of the cloud, security must be completely built into the organisation's systems. You cannot simply purchase a solution and call it a day. 
Today, the reality is that users are connecting from anywhere, anytime, and remote workers are accessing organisational resources from environments that are not sufficiently secure. Apps are rapidly moving to the cloud, and the traditional concept of the organisational perimeter has vanished. As a result of these factors, the attack surface of companies continues to expand, and remote assets are becoming more challenging to manage, making it increasingly difficult to have a single pane of glass view of things. 
Additionally, the need to maintain uniform and granular access controls to applications in the cloud as well as on-prem has not only increased the complexity of security operations but also impacted user experience. Traditional models dependent on on-site licensing are not practical anymore, as users are everywhere, and data has moved to the cloud. 
Enterprises are also being pushed toward allowing customers to benefit from any available connectivity. This means supporting both wired and wireless technology. How can security be guaranteed even when the end-user device is not connected to the enterprise network? 
This comes down to innovation in the security space. Technologies such as Zero Trust and security at the edge are crucial to protecting organisations today, as the castle-and-moat approach is no longer sufficient. 
Zero Trust Network Access (ZTNA) augments traditional VPN technologies for application access, and removes the excessive trust once required to allow employees and partners to connect and collaborate securely. 
Secure Access Service Edge (SASE) is another piece of the cybersecurity puzzle in this perimeter-less era. SASE is an emerging framework for the convergence of networking and network security services within a global cloud-based platform, providing zero trust network access, data and threat protection, and better performance with reduced complexity. 
Help AG has been heavily focusing on innovating solutions to address the issue of securing users no matter where they are. Last year, we launched Help AG Secure Private Access Service (HPA), a scalable and locally delivered service that follows an identity aware ZTNA approach. HPA provides holistic security, visibility and control across environments. Also, earlier this year, we launched Cyber Edge X, a SASE offering that unifies networking and security services in a cloud-delivered architecture to protect users, applications, and data everywhere from cyber threats, ultimately enabling organisations to redefine their perimeter security in the cloud. 
It is also crucial to ensure that users are activated as part of your security strategy. Even the best technologies may fall short, so it is important to build security awareness to increase the chance of your users making the right decisions, thereby becoming your first line of defense. Help AG has always been an advocate of a people-centric approach to cybersecurity — be it our employees, business partners, or customers. 
How about value-for-money & cost-effectiveness? Will these new approaches benefit enterprises & customers financially? 
Aside from being crucial in the perimeter-less era, ZTNA and SASE can both reduce an organisation's IT costs. Employing SASE can help organisations to manage costs better by moving away from a complex hybrid IT environment and offering a single cloud-native architecture. 
Also, more and more enterprises today are leveraging MSSPs for 24×7 security operations, instead of trying to handle security operations themselves. Utilising the services of an MSSP will cut down the total cost of ownership (TCO) as the customer doesn't have to onboard resources. This brings predictability to spending, as the business's security spending shifts from a CAPEX to an OPEX model. In addition to cost-efficiency, outsourcing security operations to an MSSP allows the organisation to focus on their core business. 
This brings us to Help AG's Managed Security Services (MSS). What are some of its key differentiators and how does it help customers stay ahead of cyber-attacks? 
Help AG has been one of the region's most experienced and trusted cybersecurity partners for more than 15 years. When we decided to build our Managed Security Services offering, we committed to building truly global and advanced security services while molding them to suit regional market threats and requirements. With these core principles, we built our service offering from the ground up, and it was received very well in the market, enabling us to become the biggest MSS provider in the region. 
One core principle that sets our MSS offering apart is that our core service architecture aligns with regional compliance requirements, such as local data residency, without compromising on the quality or efficiency of the service. 
Additionally, Help AG has a large team of security researchers who are constantly searching for zero days and new vulnerabilities, and this knowledge is fed back into our Security Operations Center (SOC) service to ensure our customers are always one step ahead.  
Moreover, we are one the few players in the region who have an in-house threat intelligence team. We leverage intelligence gathered from our existing community and customers, coupled with threat activity monitoring of the dark web for threat activities that could impact the customer. 
Another factor that sets our services apart is that the Help AG SOC utilises automation capabilities for enrichment and response to alerts that we observe in our customers' environments. This allows us to not only be consistent in incident handling, but also to conduct faster triage and response. 
Most importantly, we are always innovating to stay ahead in protecting our customers. At Help AG, we are committed to evolving our services, collaborating with technology partners as well as working with our customers to continually improve their security posture through both identifying new services and improving the ones we are delivering to them. 
Is it more efficient & effective for organisations to handle their own cybersecurity operations, or should they outsource them to a service provider? 
It does not make sense for an organisation to handle its own cybersecurity operations, and there are a number of reasons for this. The first is that the cost of building an internal SOC entails significant investment in people, processes, technology, physical facilities, and physical and logical surveillance, not to mention the selection of hardware and software technology. And even when you have made all these purchases and procured them, you are still unlikely to get any value out of them, unless you have access to the right expertise and maturity in operating the processes. This is only made more difficult by the fact that the number of unfilled cybersecurity positions stands at 3.1 million according to reports. 
Thus, it makes far more sense both commercially and logically to choose a managed security service provider who has already invested in the technology, skills, and maturity of processes and operations. All these resources and abilities can be acquired by partnering with the right MSSP, and with Help AG, the cybersecurity arm of Etisalat Digital, enterprises get access to the best and largest MSS team in the region, as well as a flexible financing model, hence investing in a capability which will evolve over time. 
What is Help AG's strategy when it comes to cybersecurity as a service? Can you also give us an idea in terms of the service roadmap in the coming months? 
Help AG's strategy is to shift from technology delivery to a service-centric model. We have been advocates of this from day one, and we are best-placed today to offer comprehensive cybersecurity services covering the entire lifecycle, from 'Assess' to 'Defend' to 'Respond'. Irrespective of the underlying technology or the deployment model, the customer will rest assured that they are provided a service built on best-of-breed technologies. Our vision is to offer our customers the highest level of protection and user experience, wherein we deliver top notch services in terms of people, processes and technology, on an MRC/PAYG model.  
The second important aspect of our strategy is that all the services we deliver are fully compliant with UAE data regulations. Additionally, we ensure that we have expertise and infrastructure on the ground. The concept we follow is 'think global, act local,' aiming to give customers all the benefits of the most advanced global technologies, while fully provisioning them locally with expertise available on the ground. 
Under our strategy, the customer also enjoys SLA-based offerings; cybersecurity expertise on demand, wherein our experts work as an extension of the customer's team; and elastic capacity based on the customer's needs. 
In terms of our services roadmap, we have already standardised many of our services, including 24/7 Threat Monitoring, Detection and Response, and we have applied automation to several of our existing services, including our Managed Advanced Web Application Firewall (AWAF) and SASE services. Other best-of-breed services we offer include Penetration Testing, Red Teaming, Security Awareness, Compromise Assessment, Managed Security Controls, Managed Threat Intelligence, Digital Risk Protection, SMB Security Offerings, Always-On DDoS Mitigation, Security Bundles with Service Providers, and Secure Cloud Offerings.  
How has Help AG invested in technologies and training to meet the security needs of the region? 
In addition to our experience and expertise, we have a focus on thought leadership and early adoption of new, innovative technologies. Take secure cloud enablement as an example; cloud became a huge buzzword during the global pandemic, but prior to that the region's pace of cloud adoption had been slow. Staying ahead of this trend, Help AG was pioneering secure cloud enablement long before the pandemic. We were already consulting, designing and putting architectures in place with our clients, helping them securely move their workloads to private cloud, public cloud and hybrid environments. 
From the start, Help AG has been an organisation that invests heavily in our own people and into training and enablement so that we can provide the right level of service to our clients in the region. With our significant internal capabilities, including very strong delivery, support and managed service capabilities, we take full responsibility and accountability for training our staff.