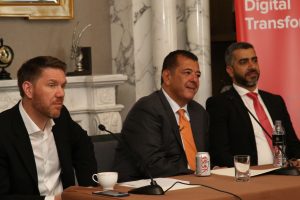 Infor has announced record triple-digit year-on-year growth for its India, Middle East and Africa region for 1HFY17.
The firm used its Infor Next event at the St Regis hotel in Dubai to announce 131 percent growth for the Middle East region over the same period. Infor also announced the acquisition of Cairo-based IT supplier Accentia Middle East.
"My aspirations were for our sales to be half cloud and half non-cloud by this point," Tarik Taman, general manager, IMEA, Infor, said. "I didn't quite make it, but figure is nearing that point."
Since the launch of the IMEA region in July 2016, Infor has added cloud customers including Saudi Arabian mall and property firm Arabian Centers, which is a division of Al Hokair Industries, India's largest retailer Future Group, and leading manufacturers Future Pipe Industries and S.K.M. Air-conditioning.
Infor IMEA currently has over 2,500 employees, with offices in Dubai, Jeddah, Cairo, Tunisia, and six cities across India.
Taman has also announced ambitious plans to quintuple the company's IMEA market share by 2020.
"The next few years represent the tipping point in the Middle East, India, and Africa with C-suite executives across industries and countries understanding the macroeconomic catalysts driving the necessity to embrace digital transformation," Taman said. "We are the iPhone of business systems, and our strapline is that we are the world's largest startup. We have high ambitions in the region to claim the majority of market share for business systems in the cloud.
"Expansion in the Middle East and across the larger IMEA region is increasingly being driven by a healthy cloud uptake in what will likely be a decade-long ERP replacement market."