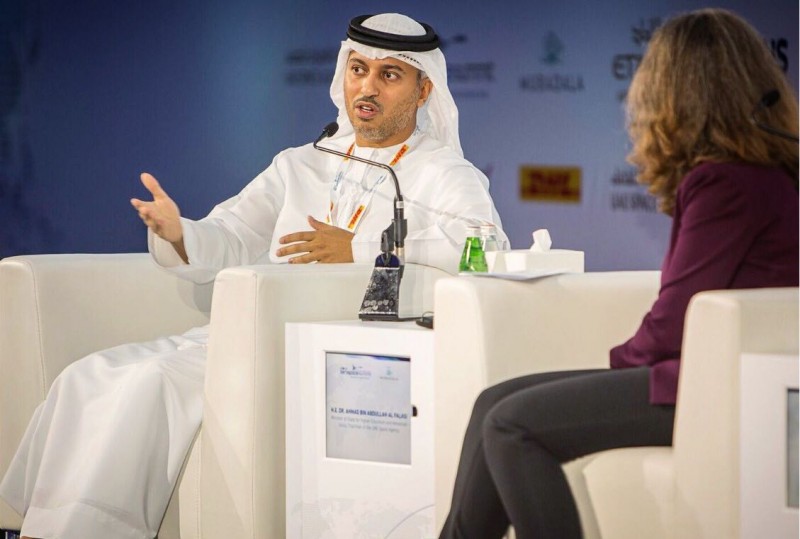 The space sector will help solve critical issues around renewable energy, transportation, nutrition and water conservation according to Dr. Ahmad bin Abdullah Humaid Belhoul Al Falasi, Minister of State for Higher Education and Advanced Skills and Chairman of UAE Space Agency, who spoke at the second day of the Global Aerospace Summit 2018.
Dr. Al Falasi highlighted that new initiatives such as UAE's Mars Scientific City and the Hope Probe mission to Mars will allow the UAE to tackle regional and global challenges and bring significant benefits to humanity.
"Space has three important elements that we are well advanced in. Communications, which is a key aspect and we have been strongly positioned in that area for more than a decade with Thuraya and Yahsat. Remote Sensing has strategic value in terms of resources and human capacity development.
"Finally, the third aspect is space exploration in which we are making great strides in – is we are seeing people become more and more engaged in STEM education. We had three generations of the same family apply to the astronaut program – a grandfather, father and son which shows the tremendous excitement and inspiration the space sector is having."
He then emphasised that "space is a message of hope for our region." This is because there are some key interdisciplinary aspects of space that are being developed on renewable energy, solar panels, agriculture and psychology, which can help solve critical issues on energy, nutrition and water conservation.
According Dr. Al Falasi, even though the UAE is in a tough region, if we focus on tolerance and science we will make progress. "UAE's Mars Scientific City replicates conditions of Mars and will solve issues around water, energy and food and help with our human capacity development."
"Sustainability is critical and we have developed successful projects here, for example 100 percent of water is recycled at Masdar. Water conservation is vital for space missions in which it currently costs $10,000 to send 1 litre of water into space. We need to find new and cost-effective ways and our space projects are helping to make that happen."