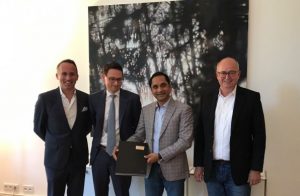 As part of its geographical expansion plans to expand across the rest of the EMEA, regional value-added distributor Spectrami has acquired Network Performance Channel (NPC), a leading global value-added distributor for networking, monitoring and security solutions in Germany.
Based in the UAE and the United Kingdom, Spectrami aims to serve the channel across EMEA with local presence in GCC, UK, Germany, Austria and Netherlands.
"We are pleased to be expanding Spectrami's operations into Germany, Europe's largest economy and welcome the dedicated team at NPC GmbH to the Spectrami family," said Anand Choudha, managing director, Spectrami. "NPC GmbH brings over 20 plus years of expertise to Spectrami in the arena of IT sistribution across the EMEA market."
With its wide spread network of channel partners (including VARs, OEMs and systems integrators) and global network manufacturers like Ixia, cPacket Networks, Datacom Systems and Savvius, NPC delivers easy-to-use turnkey solutions that provide total network visibility, improved security, reduced complexity and optimised performance to enterprises across Europe, Middle East and parts of Asia, said the company.
As per the terms of the agreement, NPC GmbH shall be rebranded to Spectrami GmbH following its successful integration. With head office in Germany and local presence in Austria and the Netherlands, Spectrami GmbH will be an extended arm of Spectrami DMCC.
"We are excited to be joining forces with Spectrami DMCC, one of the well-respected organisations in the sphere of value-added IT distribution," said Michael Hofer, managing director, Network Performance Channel GmbH.
"We are confident that this is the right way to move forward. With joint forces, we will be able to extend our market share through the whole EMEA region while bringing more niche and state of the art solutions to our reseller network." said Birgit Schmank, managing director, Network Performance Channel GmbH.
Founded in 2011 with a focus on security, Spectrami launched in the UK late last year after securing investments from multibillion-dollar Abu Dhabi-based investment fund KBBO.
"Plans of acquisition in the European territory has been one of the major goals on our roadmap towards becoming an EMEA player in the next two or three years, providing vendors with a single platform across the geographies," added Choudha.