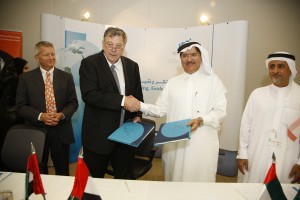 Rochester Institute of Technology (RIT) Dubai today announced it has signed an educational partnership with the Information and Communication Technology (ICT) Fund of the Telecommunications Regulatory Authority (TRA) in the UAE.
The announcement was made at a ceremony jointly organised by TRA and RIT-Dubai at the TRA headquarters in Dubai.
Dr Abdulqader Al Khayat, chairman of the board of trustees of the ICT Fund at TRA, and Dr. Luther Troll, interim president at RIT Dubai, signed the agreement. Dr Eissa Al Bastaki, CEO of the ICT Fund, and Dr Jeremy Haefner, VP of RIT New York, also attended the event.
The ICT Fund, a first-of-its-kind initiative in the Arab world, aims to enhance the global competitiveness of the UAE's ICT sector. Towards this end, it supports and promotes innovation and creativity and human capital development.
Rochester Institute of Technology (RIT) Dubai is a technology leading university established in partnership with Dubai Silicon Oasis Authority (DSOA).
According to the agreement, the ICT Fund at TRA will offer scholarships to 24 UAE national students to study information and communication technology at RIT-Dubai. In addition to identifying eligible and deserving students, the partnership mandates RIT- Dubai to monitor their progress according to set benchmarks.
Open to UAE nationals including new joiners or transfer students from reputed universities in the UAE, the scholarship will enrol candidates with a minimum overall average. Accepting the scholarship commits graduates to work in the information technology and telecommunications sector of the UAE.
The scholarship will cover tuition, application, registration, and preparatory programmes fees as well as books, administrative services, accommodation and monthly stipend.
"TRA is focused on three key areas including education, support centres and research and development to stimulate growth in information technology and communications. RIT Dubai plays a prominent role in developing a valuable national task force in the UAE, especially in the engineering and technology space. We are confident that the scholarship programme will nurture graduates to match the needs of the marketplace," Dr Bastaki said.
"Under the agreement, the university will choose students based on criteria approved by the RIT- Dubai and the Ministry of Higher Education and Scientific Research, which supports TRA in achieving the objectives of its educational programmes. In addition to developing high scientific competencies among Emirati professionals, the scholarship is designed to help graduates gain employment in the information technology and telecommunications sector," he added.
Dr Troll said: "The establishment of RIT-Dubai, in Dubai Silicon Oasis in 2008, was a fundamental step in encouraging transfer of scientific and technological know-how from the patron university in the US to the UAE,"
He added: "The transfer of knowledge has helped accelerate technical progress and scientific research to promote the development of a strong knowledge based economy in the UAE. The partnership between RIT-Dubai and TRA will take forward the objective of knowledge sharing and development to achieve the larger objectives set by the wise leadership of the UAE."