Ericsson has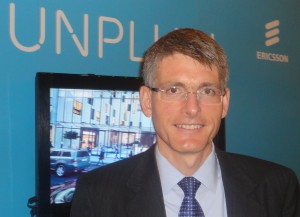 highlighted trends that demonstrated strong growth in demand for Mobile Broadband and Long Term Evolution (LTE) services in the Middle East and around the world, as part of a presentation at the LTE MENA 2012.
Speaking at the two-day event, Erik Ekudden, Vice President, Head of Technology Strategies, Ericsson, delivered a presentation entitled 'Rethinking Mobile Broadband: Creating a High Performance Network with Improved Coverage'. As part of his presentation, Ekudden also discussed the benefits of LTE for operators and their customers.
"We live in a hyper-connected world and Mobile Broadband has emerged as a key link between consumers and the wealth of information they seek to have instant access to. The widespread use of smartphones, coupled with mobile access to the Internet has emphasized the need for network technology to reduce latency and improve efficiencies by the adoption of new technologies, such as LTE," said Ekudden.
During his presentation, Ekudden also highlighted the convergence of media and telecommunications in the previous years that was driven largely by a strong demand for devices such as smartphones, tablet computers and laptops. This, he said, also presents an opportunity for LTE.
"All indications point to further growth in demand and our belief is that we will have as many as 50 billion connections by 2020. We believe that in the future everything that will benefit from being connected will be connected. Many operators are at a bursting point already with the amount of data demand and consumer appetite for data does not seem to be falling.  For that, the introduction of LTE has become inevitable to cater for the exponential growth of data demand." said Ekudden.
LTE is the fastest developing system in the history of mobile communication. More than 150 million people today have access to LTE networks, which is remarkable growth since its initial launch at the end of 2009. Ericsson has supplied the large majority of these commercial LTE networks and has signed contracts with six of seven of the top ranked operators by global revenue 2010.