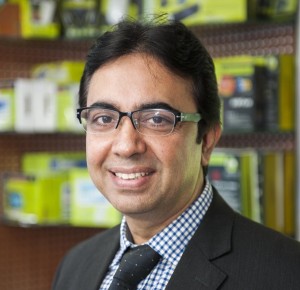 Leading the PC market globally, Intel, the US chipmaker is now looking at entering the tablet and smartphone market in the region. However, when it comes to the mobility game, the rules are very different, says Vasant Menghani, Founder and CEO, Quality Group.
This is for a number of reasons such as the fact that there are a number of players existing in this space and new ones are entering every day. Also, an immense amount of technology is bundled into one small device and applications are easily upgradable, which leads to no set functions. "This also means there could be compatibility issues along with security ones. Therefore, it is best the company approaches the market with its core business and then create a way to the mobility business," says Menghani.
Touchmate, Quality Group's IT and electronics brand, has strong ties with Intel over the last few years, leading to the company launching its first 7.85-inch tablet in association with the US company recently. And having the experience of more than 25 years in the mobility business in the region, Touchmate has now been chosen by Intel to join its board of advisories to guide the company in its future plans.
"Seeing the success of Touchmate, we have now been chosen by Intel to join its Board of Advisor Members. It is a privilege given to only one successful company from each country. It is a great opportunity, both for Touchmate and Intel, to be able to share experiences, discuss views and market trends, which will enable and enhance both line of businesses," adds Menghani.
He further adds that his role is to guide the company and give expertise on the mobility business in the region. Having recently attended the conference with other board members in Denmark, Menghani delivered his 45 minutes presentation on mobile and tablets where he touched upon opportunities and challenges in the market.