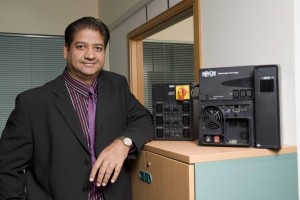 Tripp Lite has announced the introduction of a single phase switched Power distribution Unit  with individual outlet current monitoring.
The PDUMVR30HVNET offers the ability to turn on, turn off, recycle or lock out power to individual receptacles as well as locally and remotely monitor each receptacle's output power consumption.
This makes it easier for network managers to properly balance their loads, thus simplifying their jobs, Tripp Lite says.
Vipin Sharma, Vice President, Tripp Lite Middle East and Africa, said, "Our latest offering is aimed at providing improved power balance and more efficient power usage. This can help companies reduce energy consumption and bills which is always a welcome."
It offers power distribution for single phase network configurations, built in current monitoring with 1% billing grade accuracy as well as 24 switched outlets (20 C13 and 4 C19).
It is also compatible with PowerAlert Network Management System, a comprehensive software based management tool.
The unit also has support for outlet-level power on, power-off, load shedding and reboot sequence on real time or programmable basis.  It has a, 0U vertical form factor and tool less mounting for easy installation.