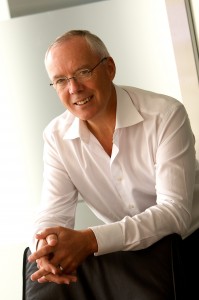 Riverbed Technology wants the enterprise IT market to know that it is no longer just a networking company providing WAN optimisation, regional director for the Middle East, Paul Sherry said today.
Riverbed is a leading company in the field of WAN optimisation – however, it has begun 2012 with announcements and product launches showing expansion into new areas.
In February, the company announced a new architectural approach called edge virtual server infrastructure (edge-VSI), which allows IT to consolidate and manage all edge servers in the data centre whilst delivery 20-50% lower TCO.
Granite, the product which enables edge-VSI, allows enterprises to completely consolidate edge applications, servers and storage to the data centre, while delivering services to the edge of the enterprise as if they were local.
Then three weeks ago, Riverbed launched the Steelhead Cloud Accelerator, a jointly developed solution with Akamai Technology. Steelhead combines Akamai's internet optimisation technology and Riverbed's WAN optimisation technology to create the first solution on the market that delivers end-to-end optimisation for software-as-a-service (SaaS) applications Google Apps, Salesforce.com and Microsoft Office 365.
Sherry emphasised that WAN optimisation is still of primary focus to Riverbed, but that its success in this area has opened up opportunities to expand.
"WAN optimisation is our core business and focus. It's still our main source of revenue. Our success in this area has allowed us to broaden our market opportunity. It also allows us to deliver a much more comprehensive solution to our customers, so that we're not just focusing on WAN optimisation but can help end-to-end," he said.
"We're not necessarily trying to re-brand ourselves, but we are extending our portfolio and building on our core. We've reached the point where we have all of the pieces of the jigsaw to build an end-to-end solution," he added.
Riverbed made another announcement two weeks ago regarding a new framework for its worldwide Riverbed Partner Network (RPN) program.
The next phase focuses on creating mutual success for value-added resellers (VARs) by introducing new enablement programs, enhanced profitability programs to reward partners and support their business growth, and enriched training programs to increase partners' competency across the Riverbed performance platform.
As a part of this framework, Riverbed is making a significant investment in building partners' competency around the Riverbed performance platform and Riverbed's expanding product portfolio, which also spans application-aware network performance management (NPM), application delivery, web content optimisation (WCO) and cloud data protection for backup, archive and disaster recovery.