Saudi Arabia had effectively used new technologies to run the massive annual pilgrimage of Haj, said prince Khaled Al-Faisal, emir of Makkah, advisor to Custodian of the Two Holy Mosques and chairman of the Central Haj Committee.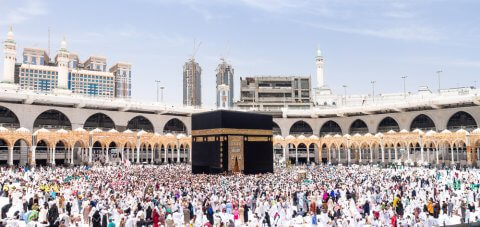 During a recent press conference, prince Al Faisal said that the Kingdom aspire to have a smart Haj by using technology in all future activities.
"The preliminary study of an integrated project for the development of Makkah and the holy sites, in accordance with Saudi Arabia's Vision 2030, has been completed and will be implemented as soon it got approval from the Royal Commission for Makkah and the Holy Sites."
Prince Al-Faisal also underlined that the development of Makkah and the holy sites, which will be implemented in phases, would depend entirely on technology and rapid communication. He said that this will enable the success of the Kingdom's Vision 2030, which targets the arrival of five million Haj pilgrims and 30 million Umrah pilgrims in future.
The emir said that as many as 250,000 civilian and armed personnel have participated in making this year's Haj a resounding success. More than 110,000 members of the security forces and 32,000 health workers were on hand this week to maintain safety and provide first aid.
He said that the Mashair Train transported 360,000 pilgrims, while 18,000 buses transported 1,800,000 pilgrims. Prince Al-Faisal said that the electric load capacity reached 17,791MW, while 40,000,000 cubic meters of water were pumped into Makkah and the holy sites.
The Ministry of Municipal and Rural Affairs provided its services through 32,000 engineers, supervisors and cleaners, he added.
As part of this year's Hajj, the Saudi Ministry of Communications and Information Technology and the Communications and Information Technology Commission have also joined together to announce an initiative to provide a total of two million gigabytes for the two million pilgrims this year.
The initiative's objective is to allow pilgrims to communicate with their families and enable them to access the digital services available in the Smart Hajj initiative, so that they can enhance their experience and allow them to take advantage of enhanced communication services, as per a release issued by the authorities.