Mastercard has been named as the official payments technology partner of Expo 2020 Dubai with the aim of creating personalised, seamless and cashless experience for millions of visitors from around the world.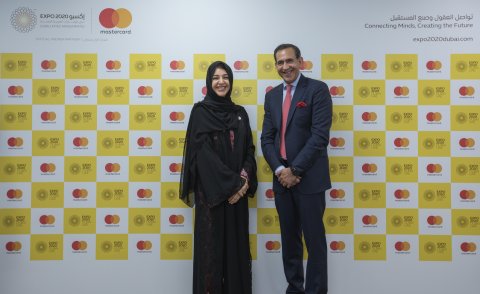 The company was today revealed as Expo 2020's Official Payment Technology Partner at Mastercard's 'Connecting Tomorrow' Forum in Barcelona, Spain.
According to Mastercard, it will explore the use of payment technologies ranging from virtual reality to biometrics and voice shopping.
Global payments technology firm Mastercard will use technology including augmented and virtual reality, and biometrics such as facial and fingerprint recognition, as well as new payment methods including contactless and wearable technologies.
Reem Al Hashimy, UAE Minister of State for International Cooperation and Director General, Dubai Expo 2020 Bureau, said, "World Expos have always offered people their first experience of technologies that will go on to change their everyday lives.
"In the future, people will grow to expect seamless experiences whenever they make a payment. Our partnership with Mastercard will not only make cashless payments easier for our visitors, but also allow them to try new and exciting innovations that enhance and become part of their Expo experience."
With 25 million visits expected at Expo 2020 Dubai, new and innovative payment solutions will play an essential role in delivering a seamless experience. Expo's partnership with Mastercard will ensure a fast, intuitive and reliable payment experience.
Raghu Malhotra, president, Middle East and Africa, Mastercard, saids "For more than half a century, Mastercard has been transforming everyday experiences through the power of innovation. Our expertise, strategic partnerships and global network have enabled us to empower citizens, make cities more livable and contribute to a sustainable future and inclusive communities.
"Our collaboration to reimagine the ease of payments as part of a seamless visitor experience at Expo 2020 Dubai represents the beginning of the next era of innovation, where new opportunities in technology are unlocking doors to a priceless tomorrow."