Falcon Eye, Dubai based drone-powered solutions company, is celebrating 10,000 flights across the Middle East and Africa based projects.
Company reveals its ambitious plans to double its operations in the next few years with the market promise of reaching the value of $1.5 billion by 2022 only in the GCC according to the latest report.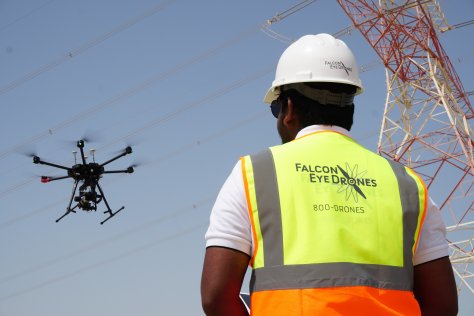 After covering the area of nearly 34,000 kilometers since company's operational inception in 2014, Falcon Eye Drones are convinced that organisations that will adopt drone applications within their operations will play a central role in the development of the regional drone industry.
"Drones are becoming an instrumental technology for many industries such as oil and gas, utilities, telecom, construction, transportation, city infrastructure developments, agriculture, archeology, safety & security as well as photography and videography. Drone technology is quickly growing beyond its original military applications and is making a very big impact on the commercial sector," said Rabih Bou Rashid, Managing Director of Falcon Eye Drones.
"In order to harvest the full potential smart city developments represent, it is important for all the industries that make an impact on this transformation, to become more cost-effective, agile and disruptive. Civil drones will help this region to excel by introducing drone applications to collect valuable data, make measured decisions, capitalise on data automation and imaging capabilities.
While the Middle East rapidly grows and innovates, drones will play an instrumental role in the development of multiple projects that are expected to be delivered in record times. Drones will not only support timely infrastructure developments but will allow citizens to experience their unlimited potential and benefits.
"We constantly work on the research and development to unleash new drone capabilities. Drones are our passion. Our most recent projects involved highly regarded government authorities, companies, and organizations such as the Municipalities, DOE (Department of Energy), MBRSC (Mohamed Bib Rashid Space Center) Ras Al Khaimah Tourism Development Authority to name a few. Whether you require stunning aerial photography, 3D mapping, aerial survey, and inspection, or any other aerial service, each solution is uniquely tailored to our clients to help them to achieve their innovative excellence", he adds.