Geneva, Switzerland, July 27, 2021: Banks must remember the human touch as they develop their digital banking services, according to a global survey of retail banking customers from Temenos, the banking software company.
Based on the views of over 4,700 banking customers worldwide, the data reveals that consumers want banks to help them manage their financial lives. Four in 10 (43%) want easier ways of paying bills or sending money on time, while over half of respondents want services that will positively impact their lives in the long term. For example, intelligent solutions to help them reach their life goals (29%) and accurate recommendations for budgeting and saving (22%).
While customers want and expect more from their digital banking, they also view access to people, when needed, as a priority. Indeed, making it easier to speak to a human representative was the top item customers want banks to focus on, cited by 19% of respondents. Closely followed by making it easier for customers to complete banking tasks themselves (17%).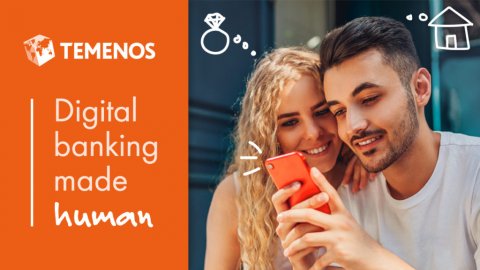 The findings suggest that digital delivery, complemented by human interaction at the point of need, is the preferred model of choice.
Banking via mobile apps is preferred by 65% of respondents, followed by website (51%); and in-person visits to a branch (42%). Forty-two percent of customers like interacting with their bank on the phone, 37% by email, and one in five (19%) on social media.
However, three in five customers said their last visit to a branch was because they needed to rather than because they wanted to, reflecting the trend for branch closures. According to recent research from The Economist Intelligence Unit released by Temenos, 65% of bankers believe that the branch-based model will be "dead" within five years, up from 35% four years ago.
In response to the changing market conditions and customer expectations, many banks now aspire to develop digital ecosystems that bring more human, differentiated experiences to their customers using the power of the cloud, SaaS and AI.
Joaquin De Valenzuela Muley, Senior Vice President and Business Line Director for Temenos Infinity, said: "Banking products are out. Advice and support that allow customers to meet their goals are in. Banks' primary focus must be on their customers and finding ways to anticipate and meet their individual needs and goals, such as buying a car or saving for their children's education. This involves a different approach, reinventing processes and unifying the bank around the customer. Modern digital banking platforms like Temenos Infinity make this possible, enabling banks to make every interaction smart and contextual. Also, to integrate relationship with transactional capabilities to provide the best possible service in an omnichannel and consistent way. This is the future of digital banking".
Temenos Infinity is used by over 650 financial institutions, helping them reimagine how they engage with their customers through digital and physical channels. Temenos Infinity has helped banks successfully increase prospect to customer conversion rates to over 65%, far greater than the industry average of 30%. Top analyst firms Gartner, Omdia, and Forrester, recognise Temenos Infinity as a leading digital banking platform.
Further details of the research are available here, and you can read the ebook "Bringing The Power Of Human Touch To Digital Banking?".